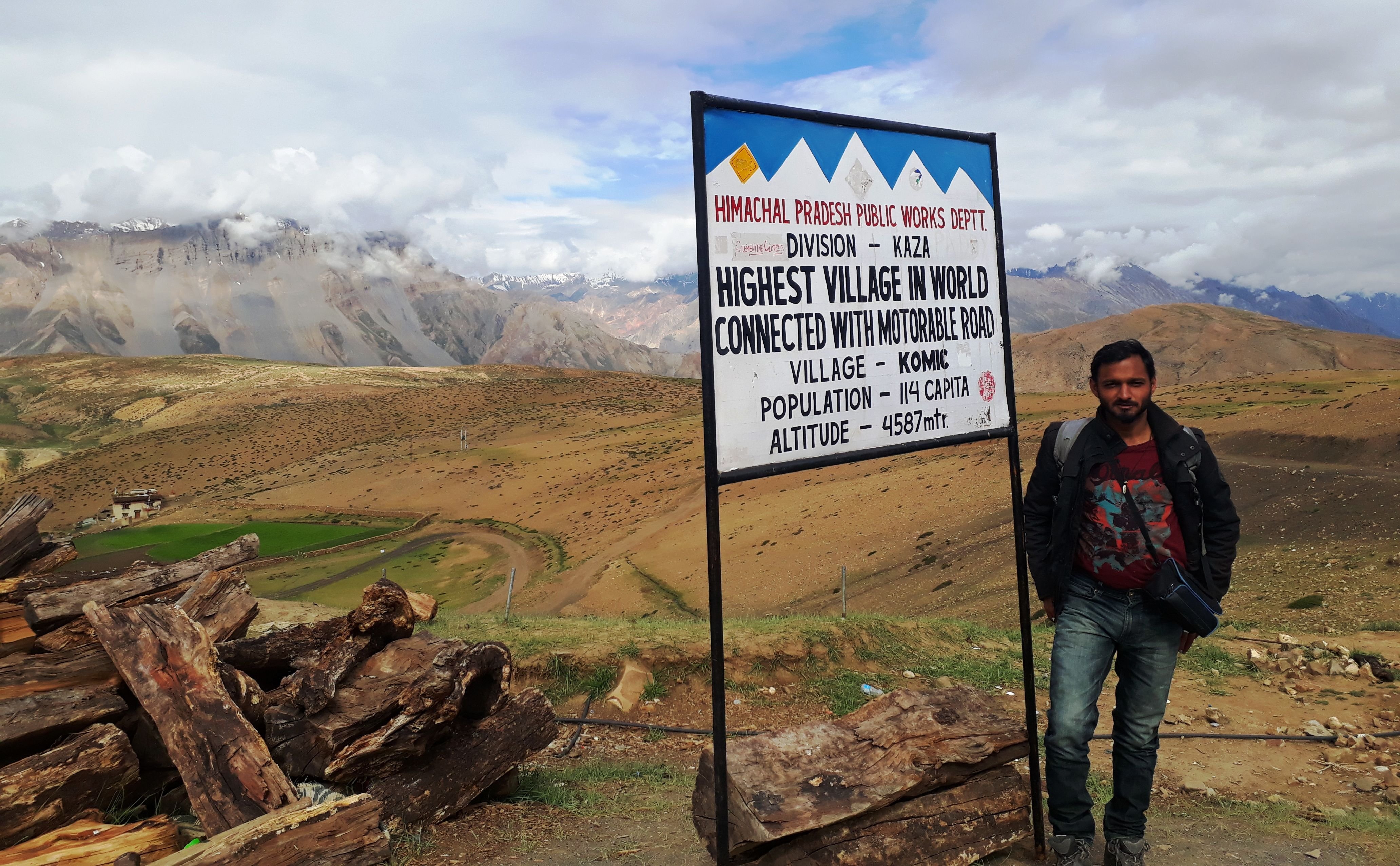 So, what we learned so far from my previous posts is that visiting these places is a full of adventures and amusing experience. Also the people here are the nicest in the world. The beauty of the place is out of the world, and if you visit, it would be your once in a lifetime kind of experience. Now lets move further with the story. After staying at Langza, our next day was also quite happening. We were filled with energy and love, and this enthused us to carry ourselves to another famous village nearby to Langza.
Road to Komik village
The single lane Katcha road from Langza to Komik village is just about 6-8 kilometers, and it didn't took us more than 20 minutes to reach there. There are no trees or even shrubs albeit few place somewhat depressed and below the ridge had this greenish carpet.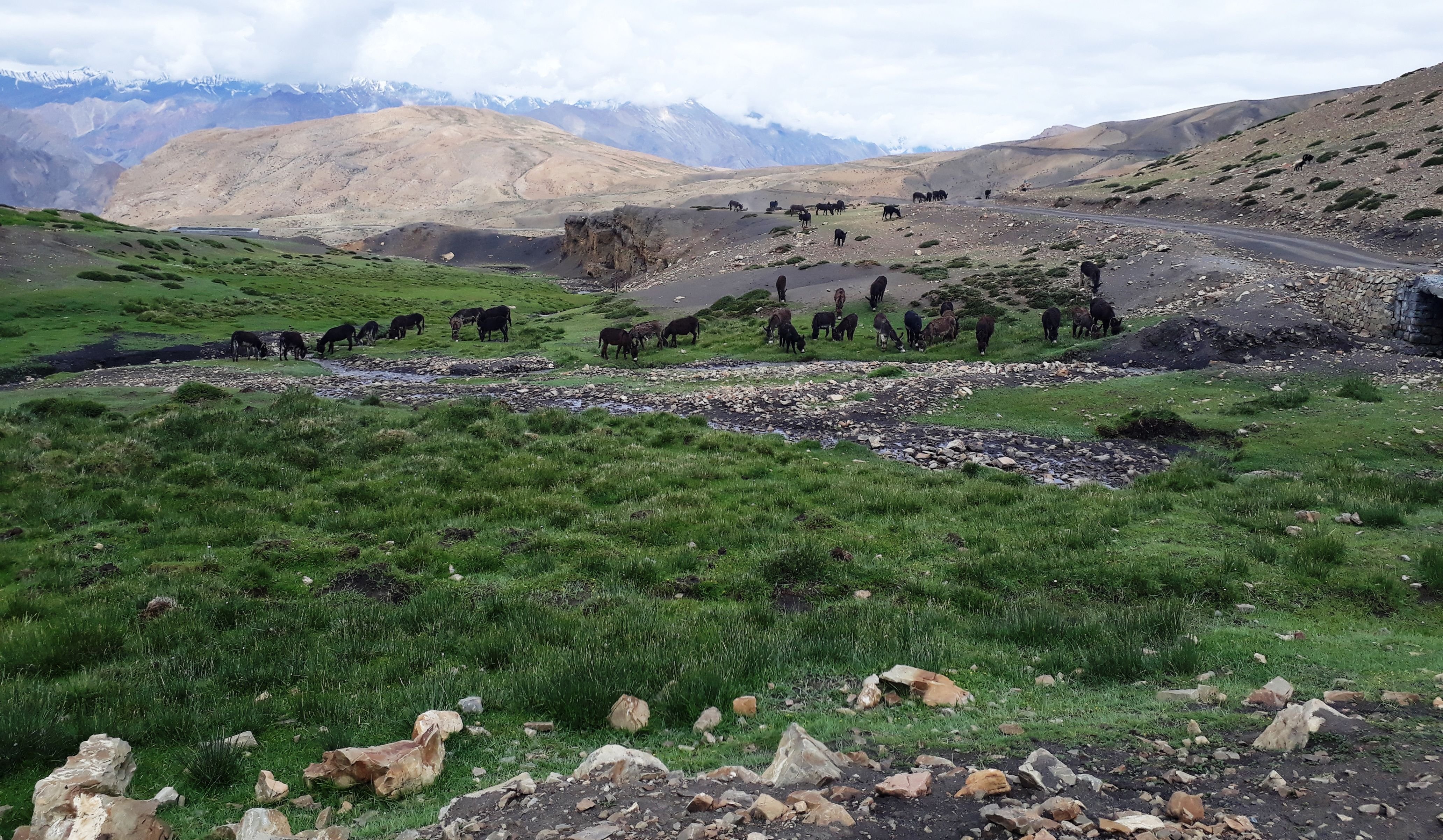 There we spotted some cows and black colored himalayan donkeys grazing.
If you only want to visit Komik, then you can come along other katcha road from Kaza, no need to come to Langza first. It would be no more than 9-10 kilometers. But I would suggest that you visit Langza and the reasons I explained in my previous post.
Komik Village
The road ends at a old monastery. It is rectangular in shape. Lamas were seated on the verandah of the hut resembling houses next to monastery. A board reads the name of the village and its elevation and the tag of 'World's highest village.'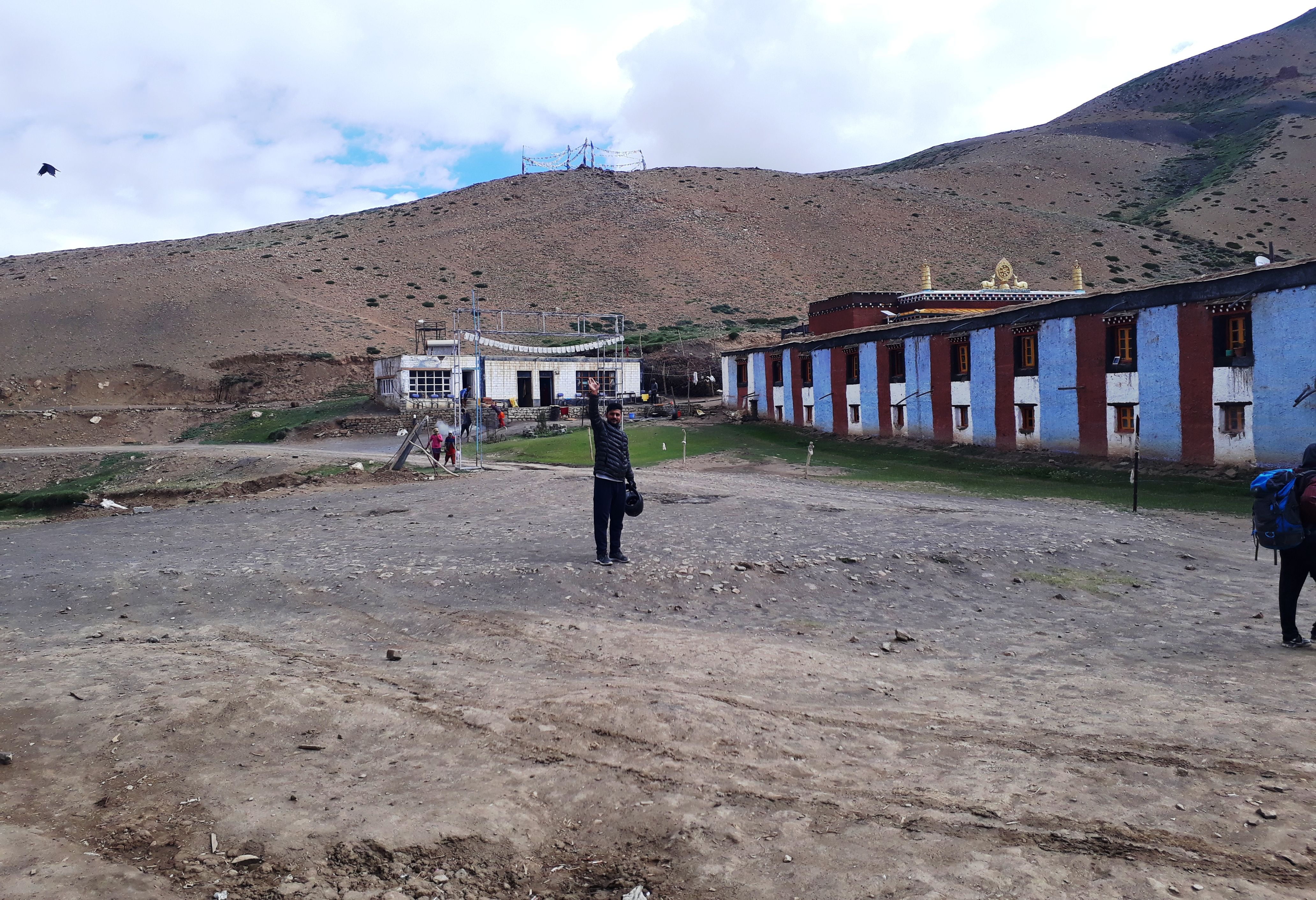 Village homes are somewhat down below this board. There are only 6-8 homes in Komik. The homes are made similar to those at Langza, the dry grass on the roof can be seen here as well. That grass is the surplus for their livestock.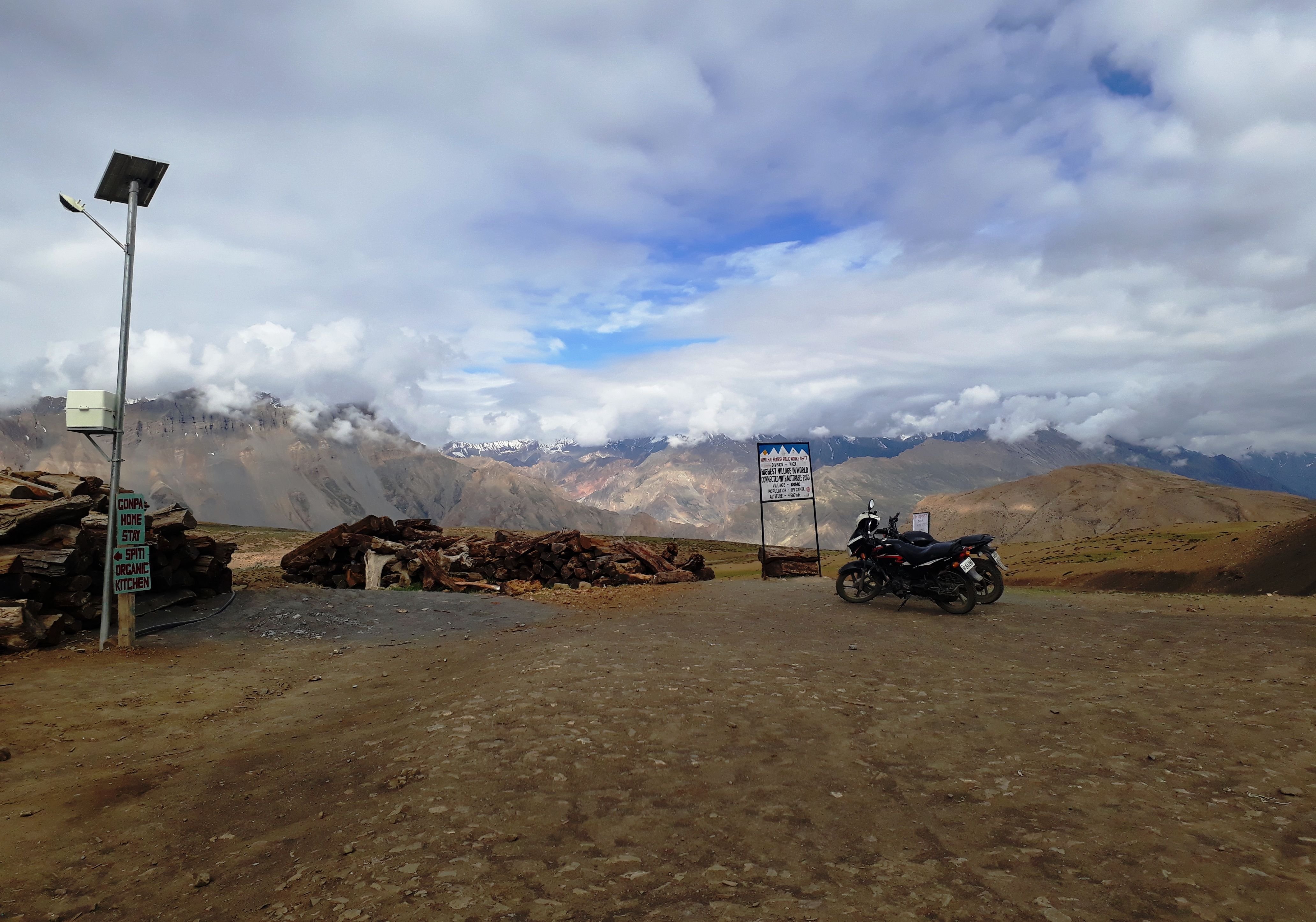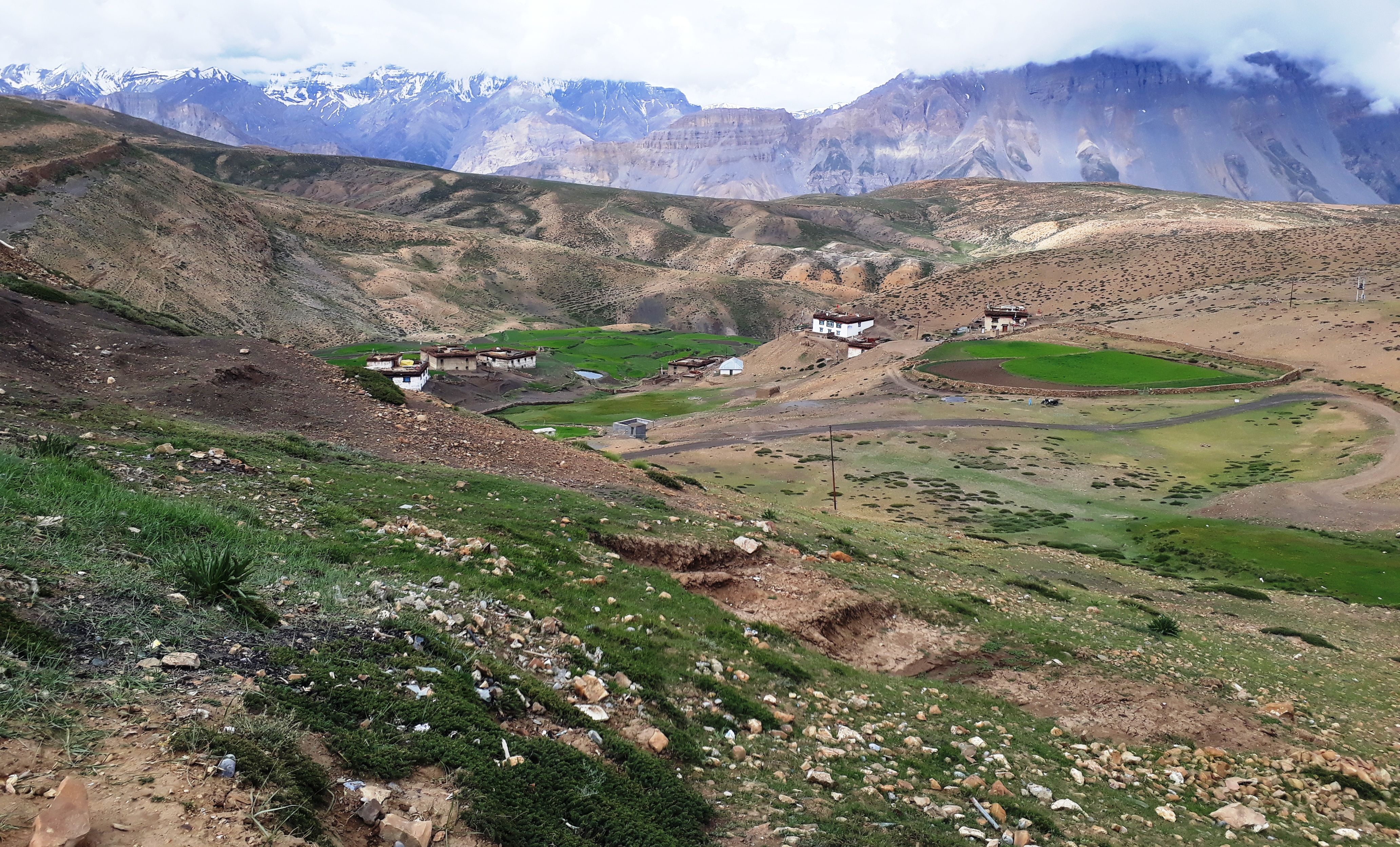 When we entered this double storeyed monastery. Here is how the entrance face is.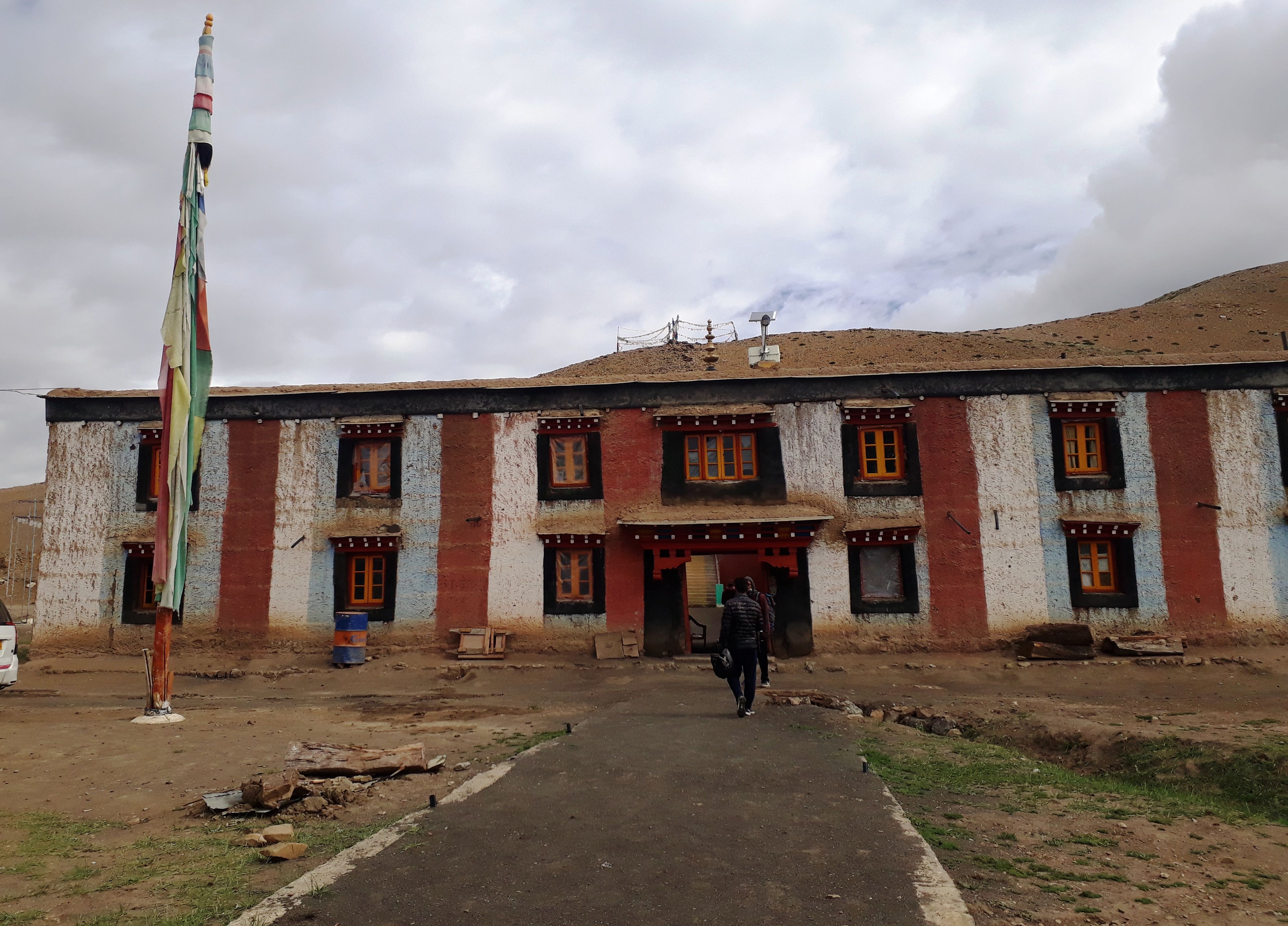 I saw a group of 8 foreigners, 2 ladies and 6 gents, in a process of setting up their huge cameras and drones.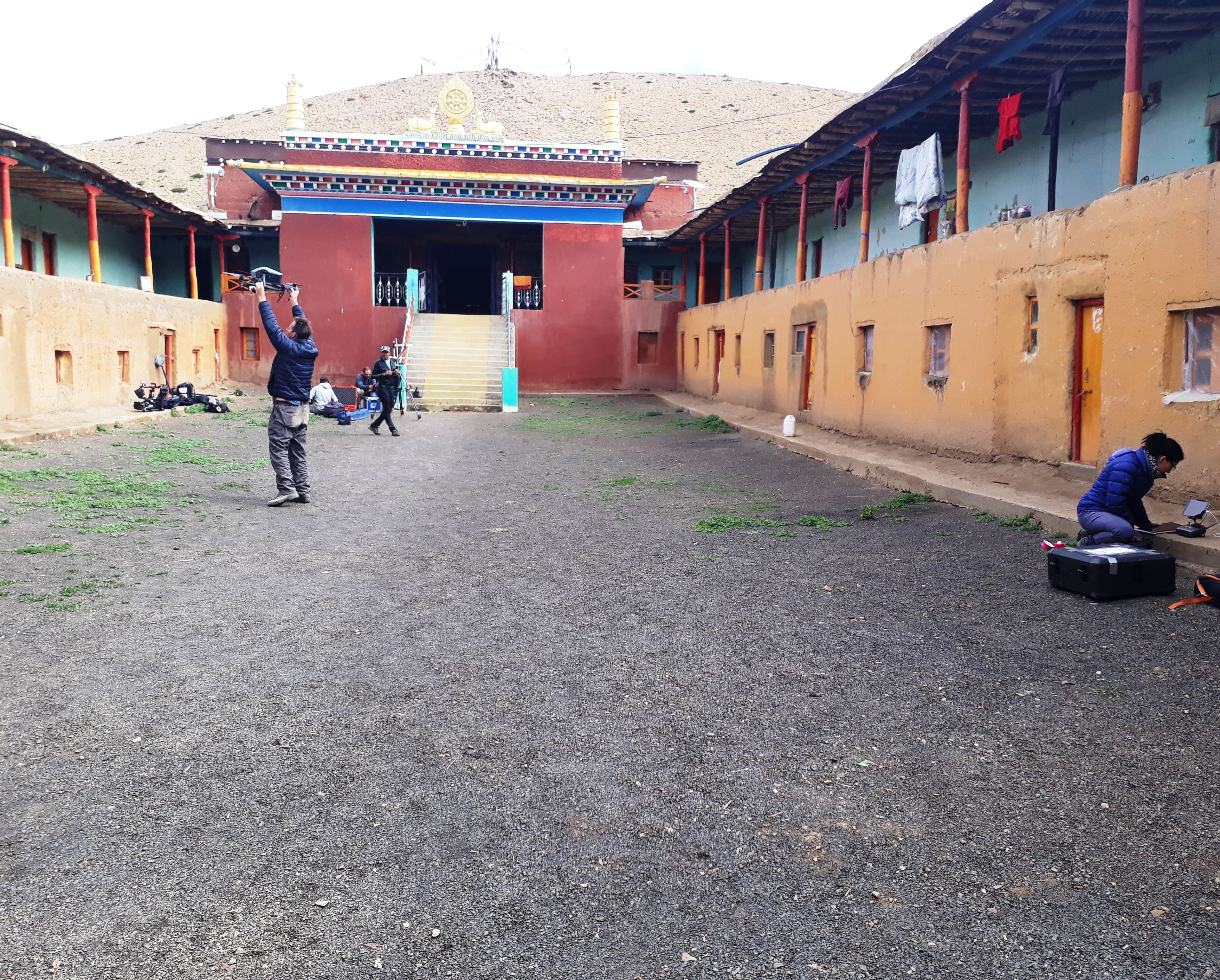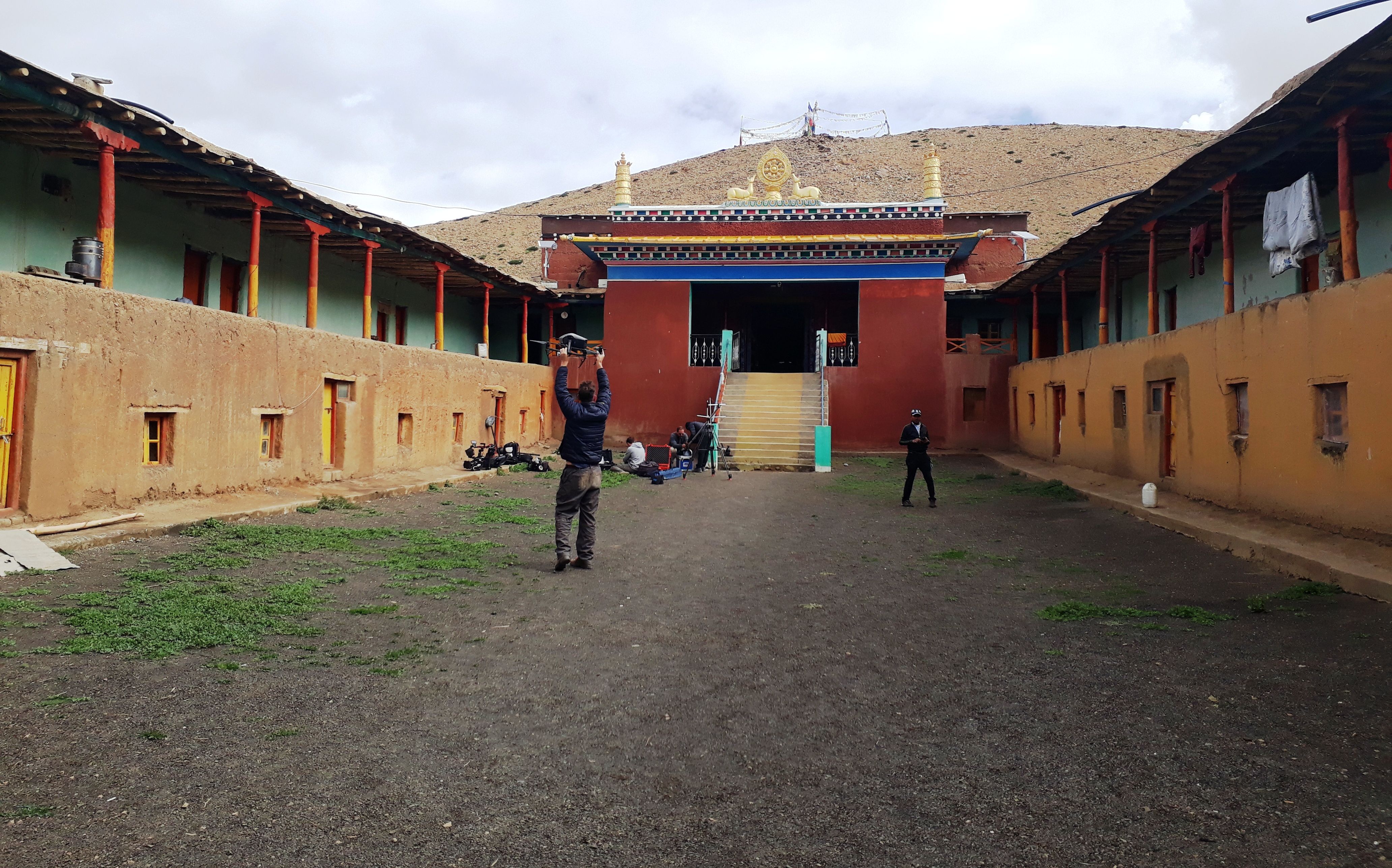 I paper pasted at the entrance read that the people were making a series of documentaries on the monasteries. In the far front of the entrance was the main chamber of the monastery where the lamas were seated in a somewhat rectangular formation. They were reciting some mantras in their deep voices. I felt lucky to witness this scene, it was divine and I captured it all in my cellphone camera, have a watch.
I came outside and then went to this small tea and perhaps snacks restaurant next to the monastery.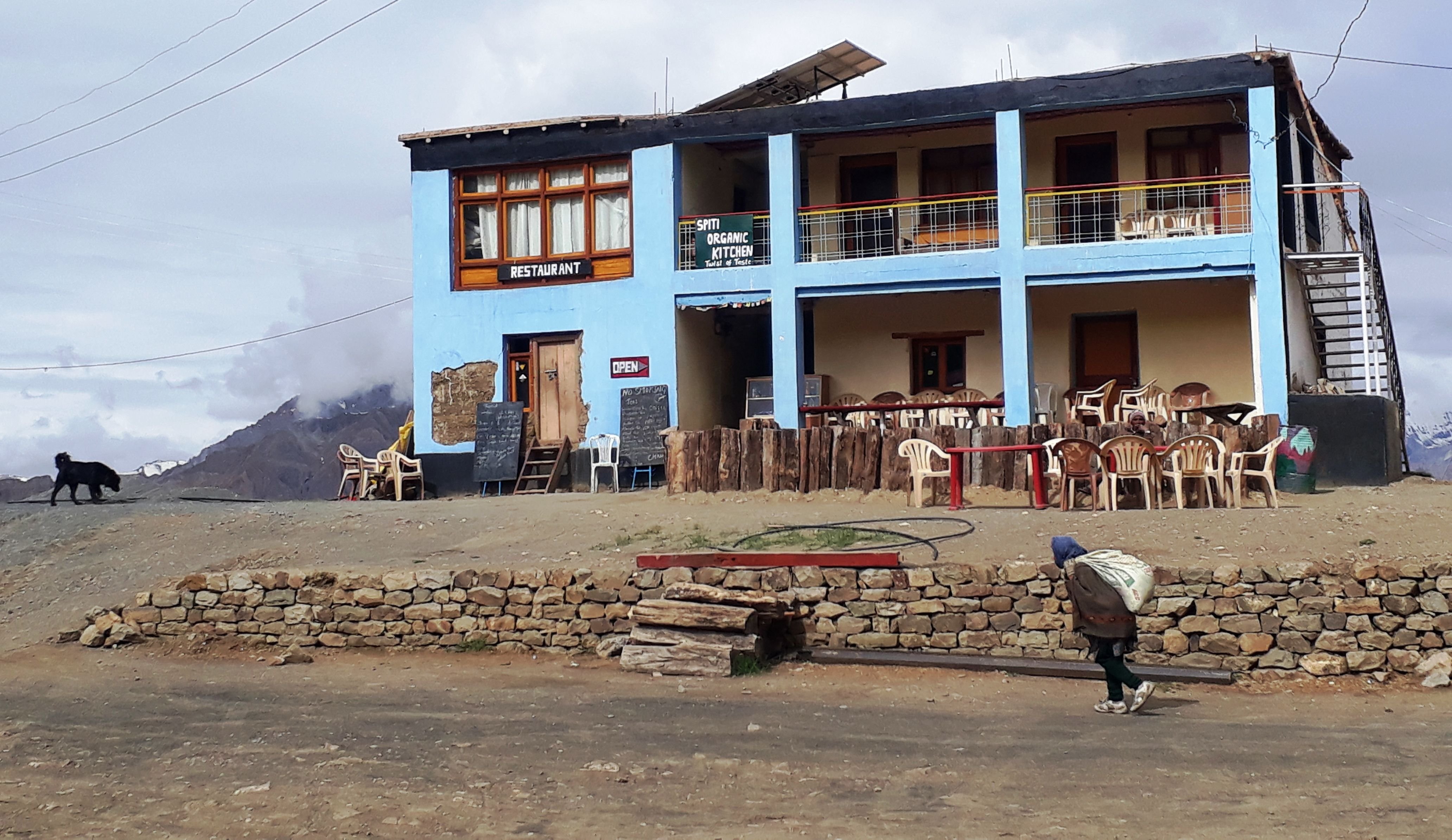 The team's cab driver was seated and we chatted for a while. He told us that he drove them from Delhi to this place. For next 15-20 minutes we stood in the open trying to capture every bit of beauty into our mind, and there I shooted this small video, which shows the outsides of the monastery and the nearby ridges of the this Himalayan desert.
The slopes contain a tinge of green at places.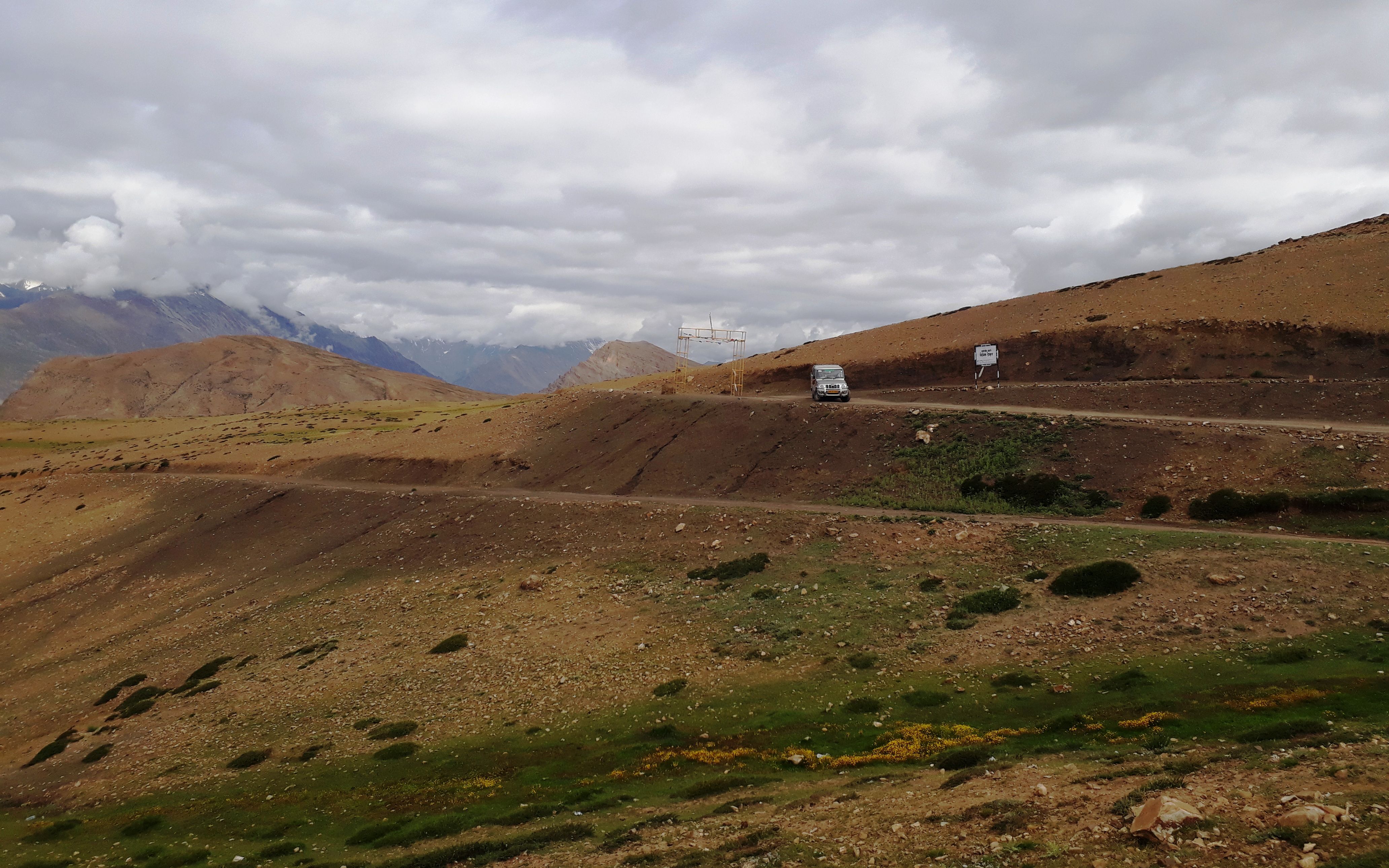 Back to Kaza
Similar road diverges down from the same road nearby to Komik. It passes via yet another similar village which is visible from the Komik itself.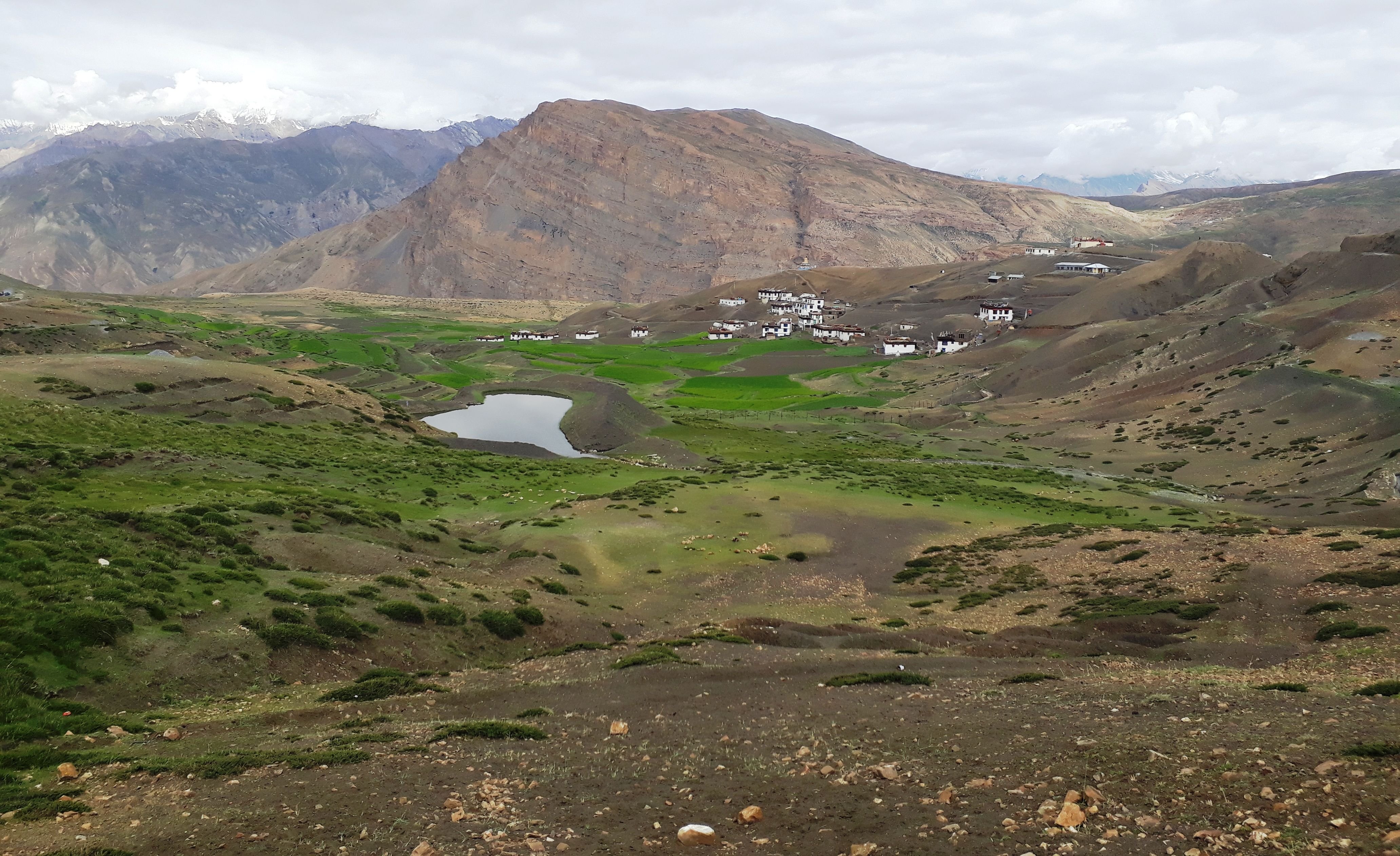 It runs through this gently sloped area near to the village and then follows the a steep gradient with number of curves to cross the cliff like face of the mountain to reach Kaza down below.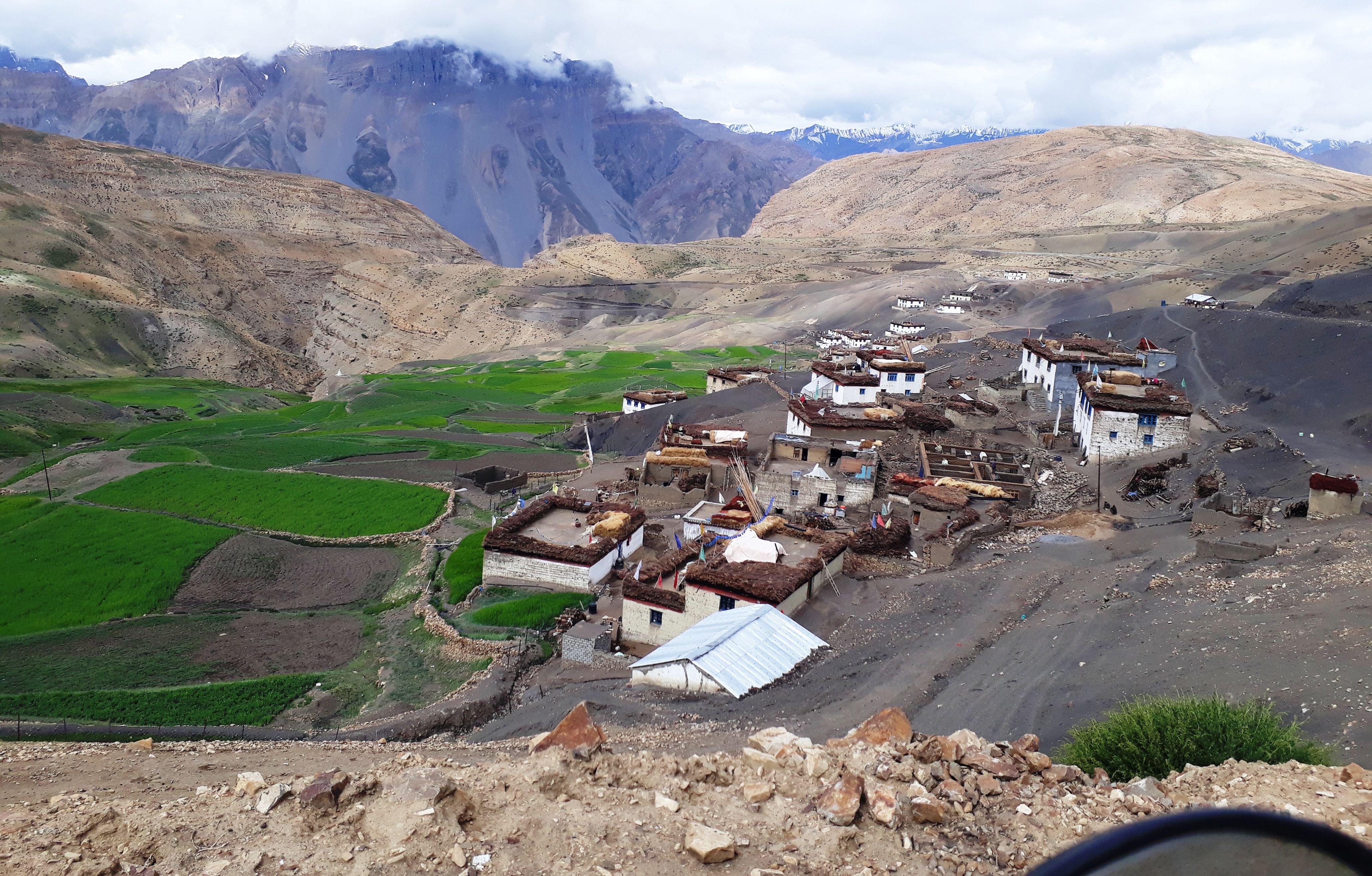 Kaza town and Spiti river both are visible from half of this road length. We turned off the engine and saved some fuel, thanks to the gravity.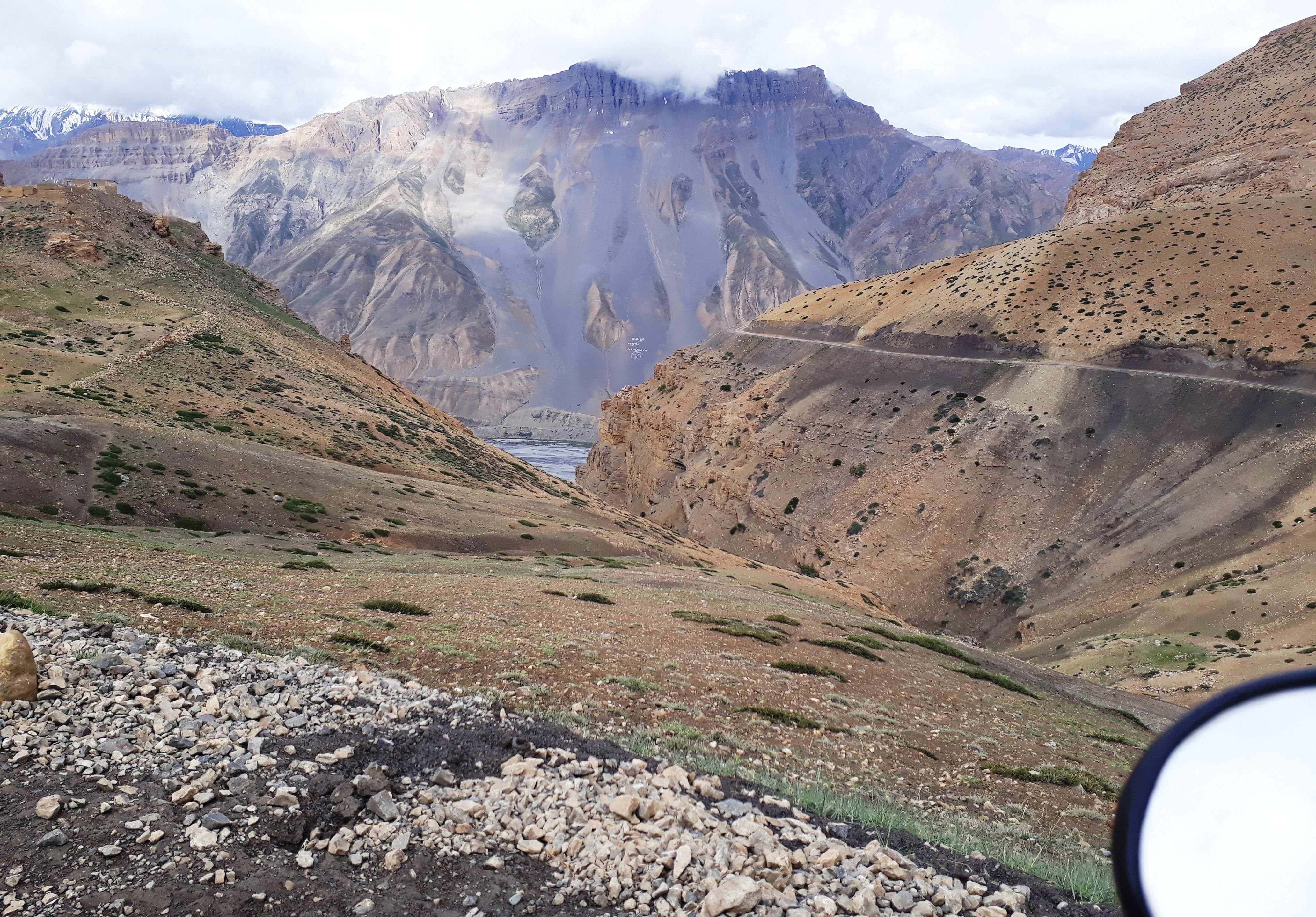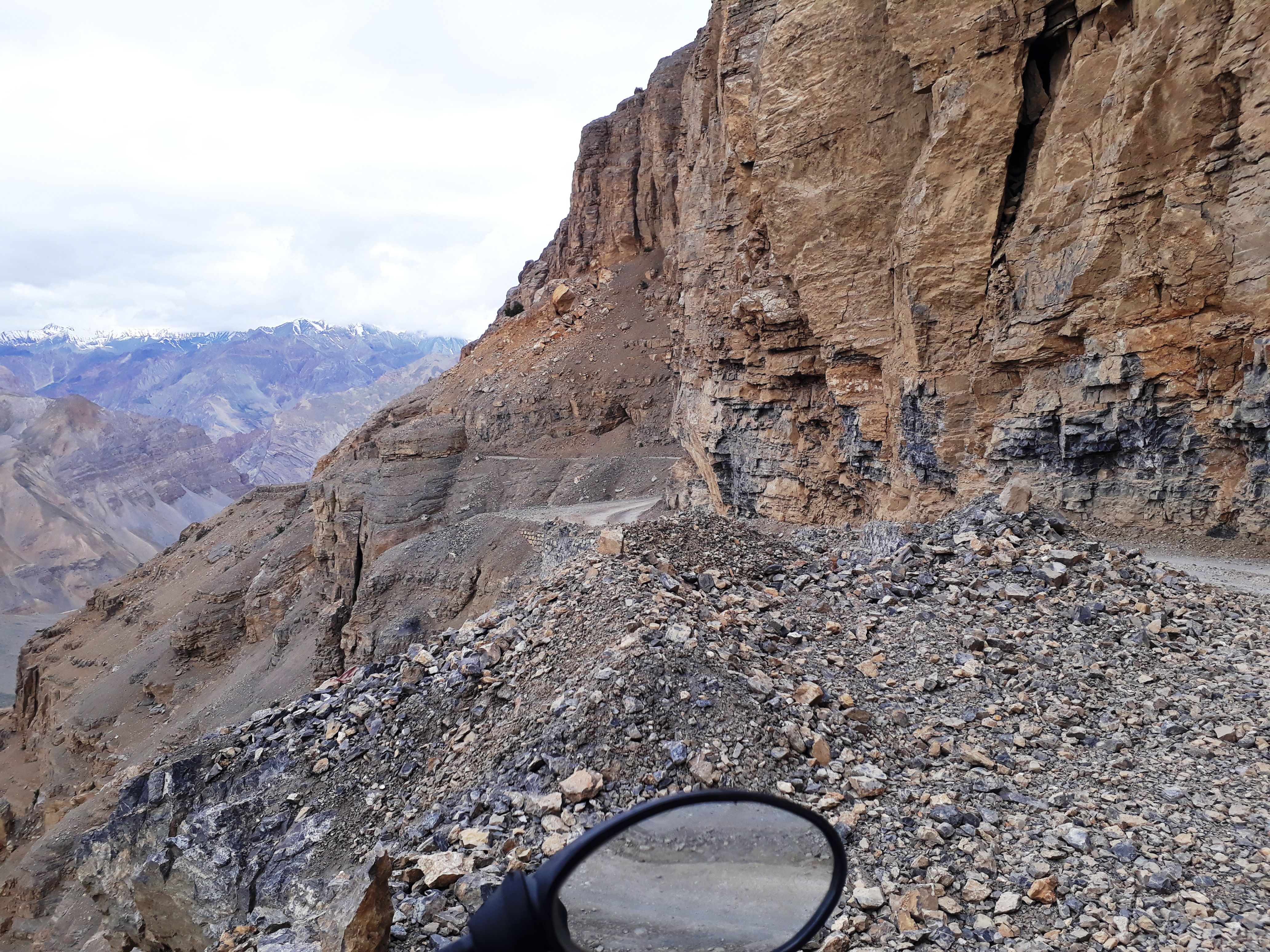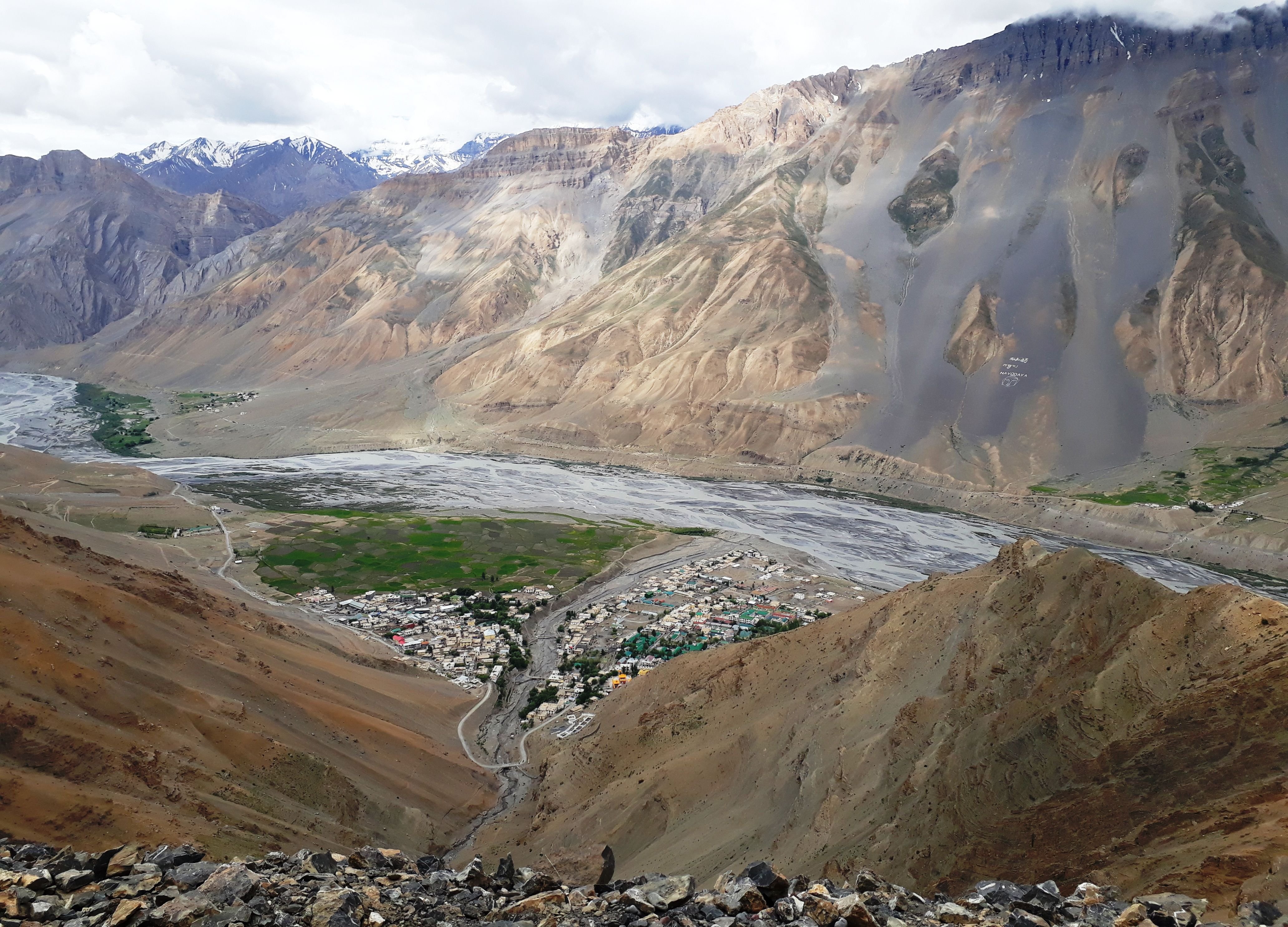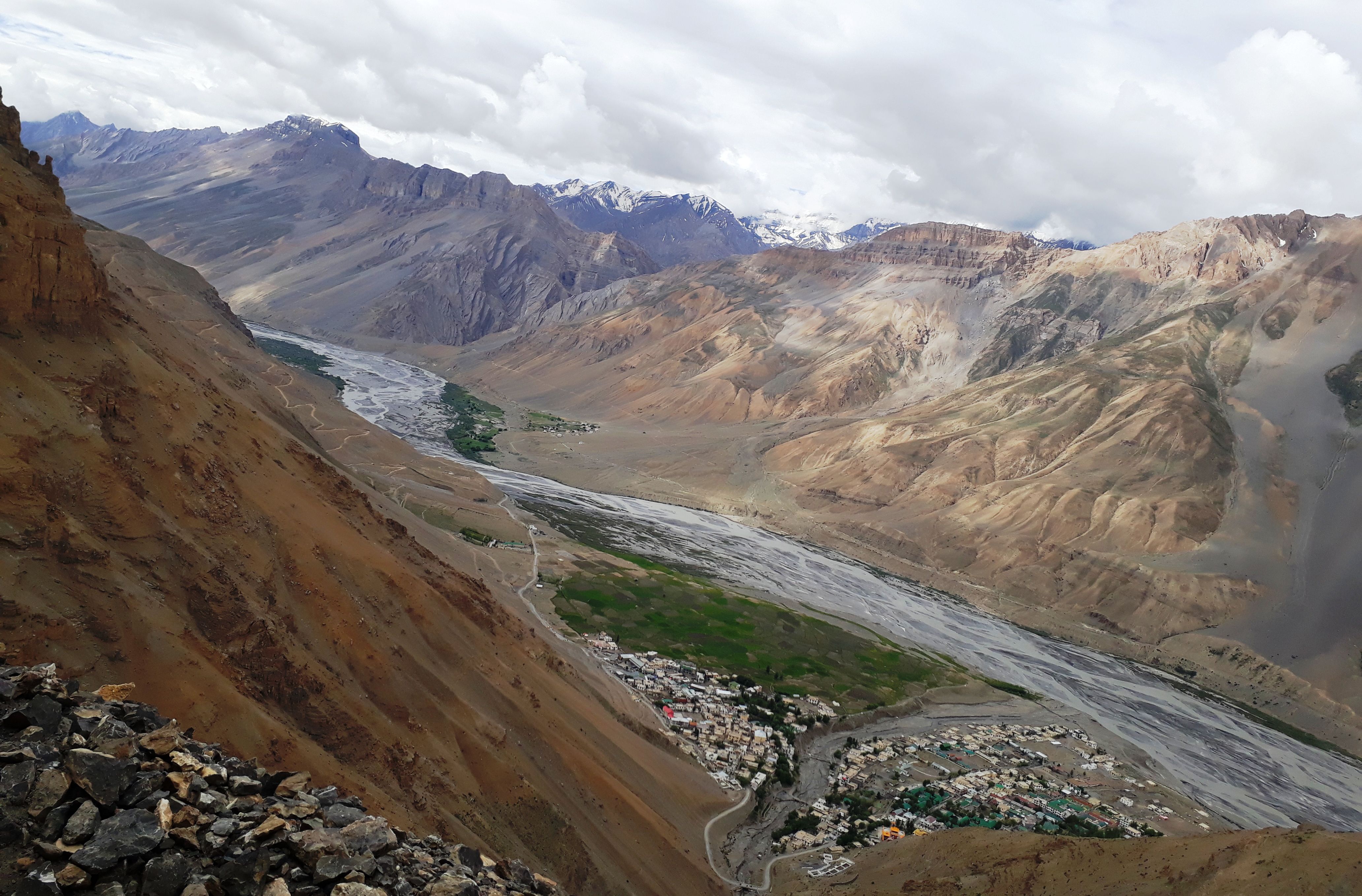 At kaza we filled the motorcycle tanks and without losing much time we started on yet another beautiful stretch of the road along the Spiti river.
From Kaza towards Lossar
This was our 4th day after the 3rd night halt at Langza. I would say the road is dusty at many stretches but serves you the most spectacular views. Have a look.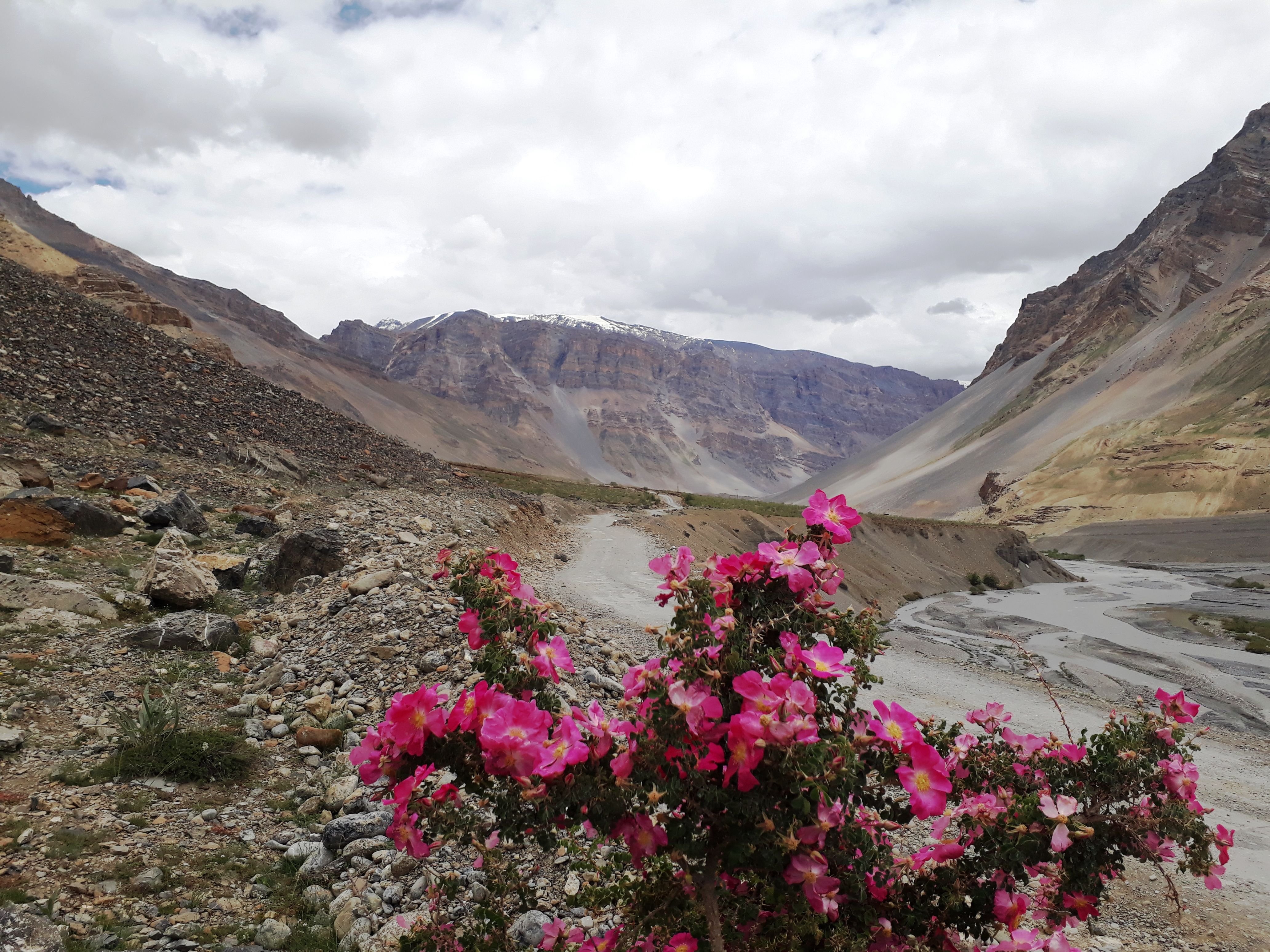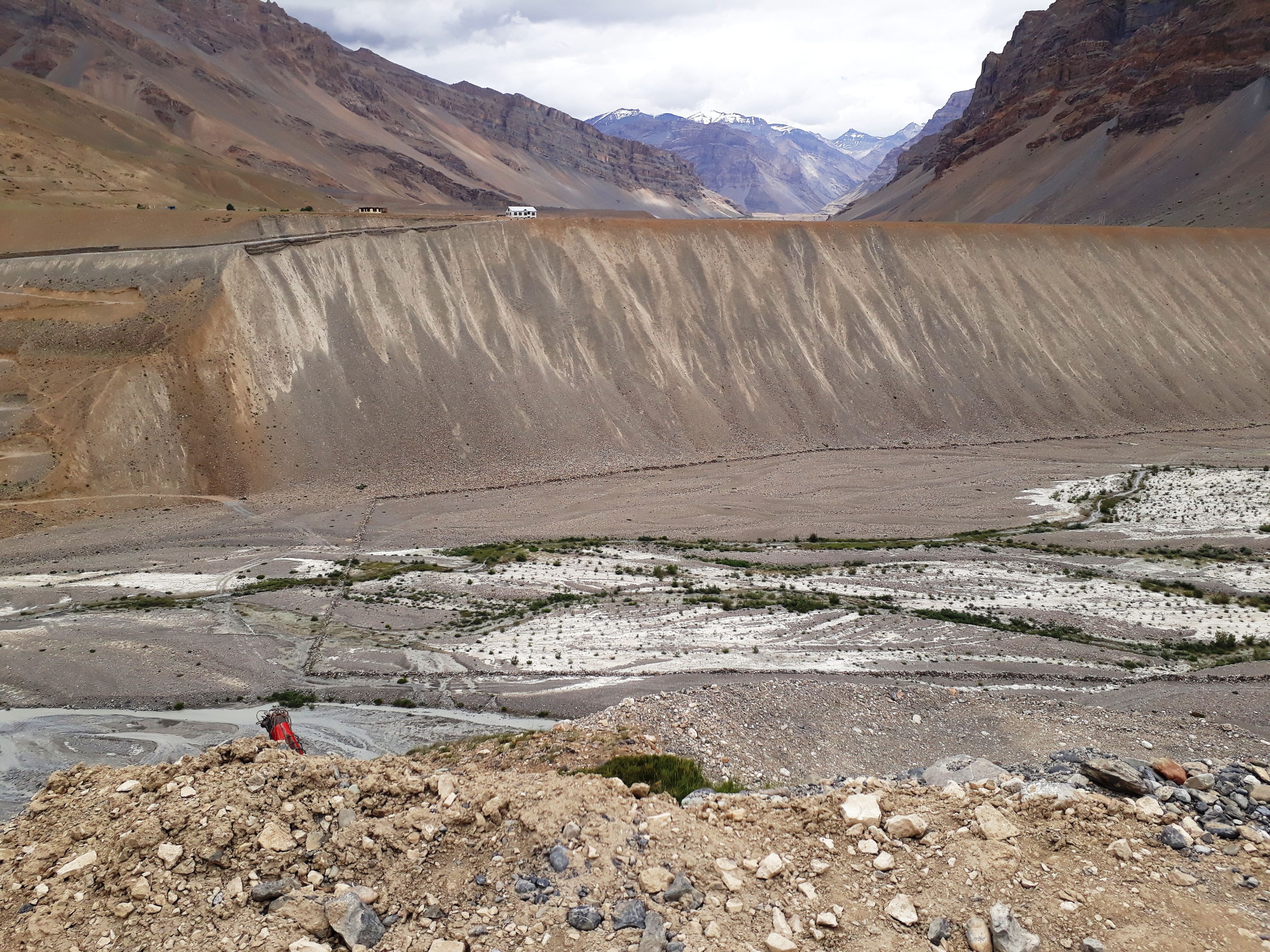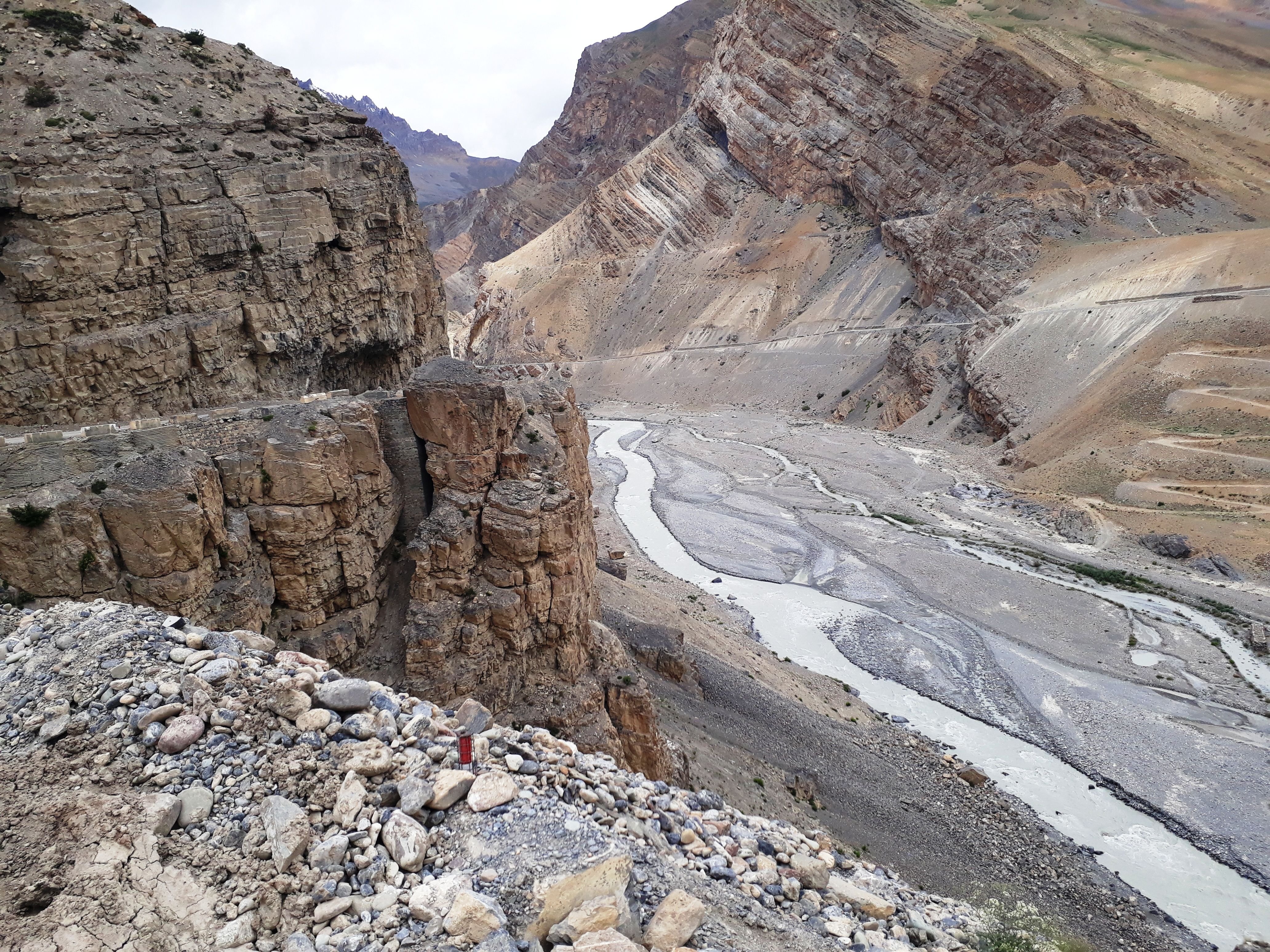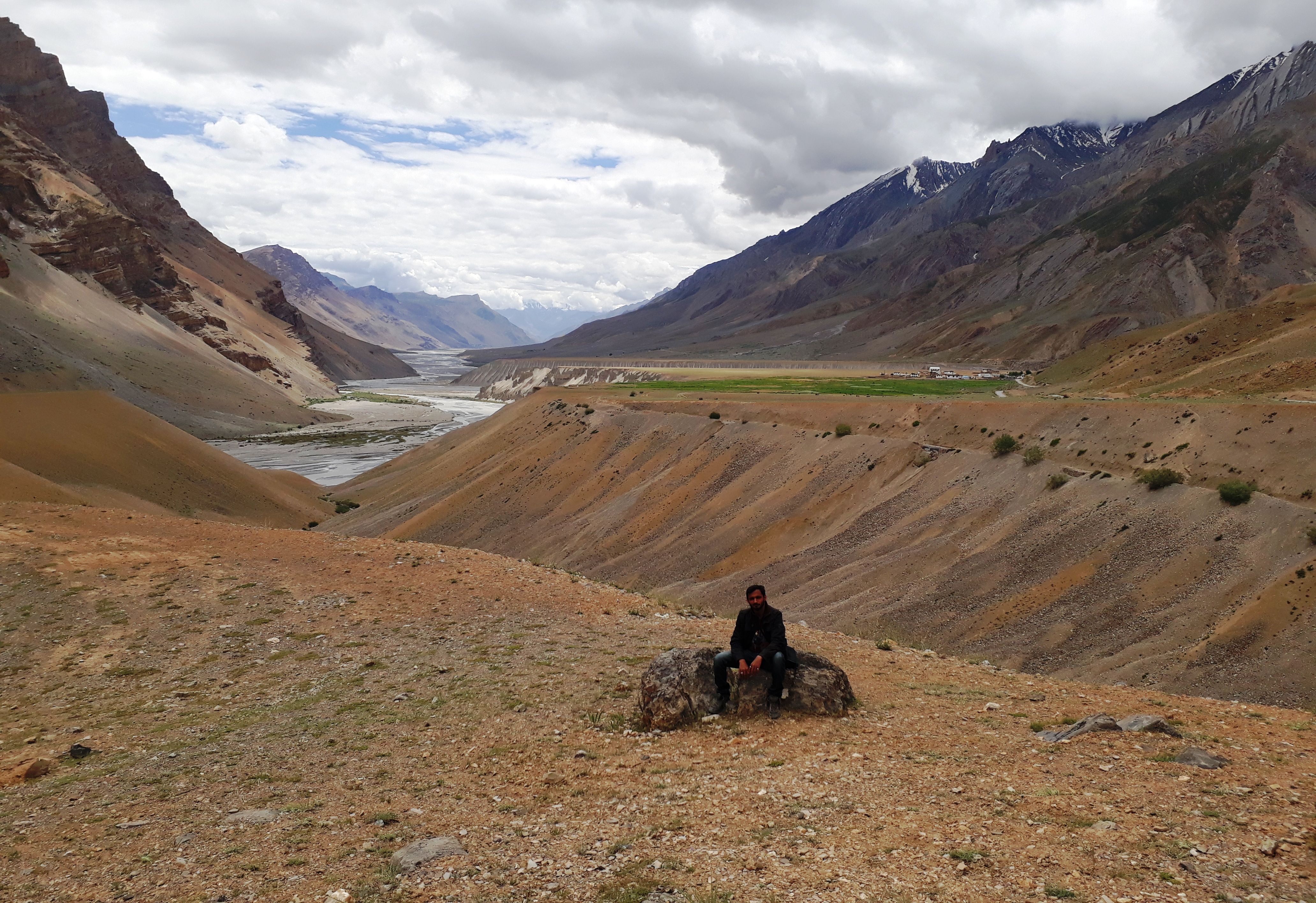 You will meet very few villages on this more than 50 kilometers of stretch from Kaza to Lossar.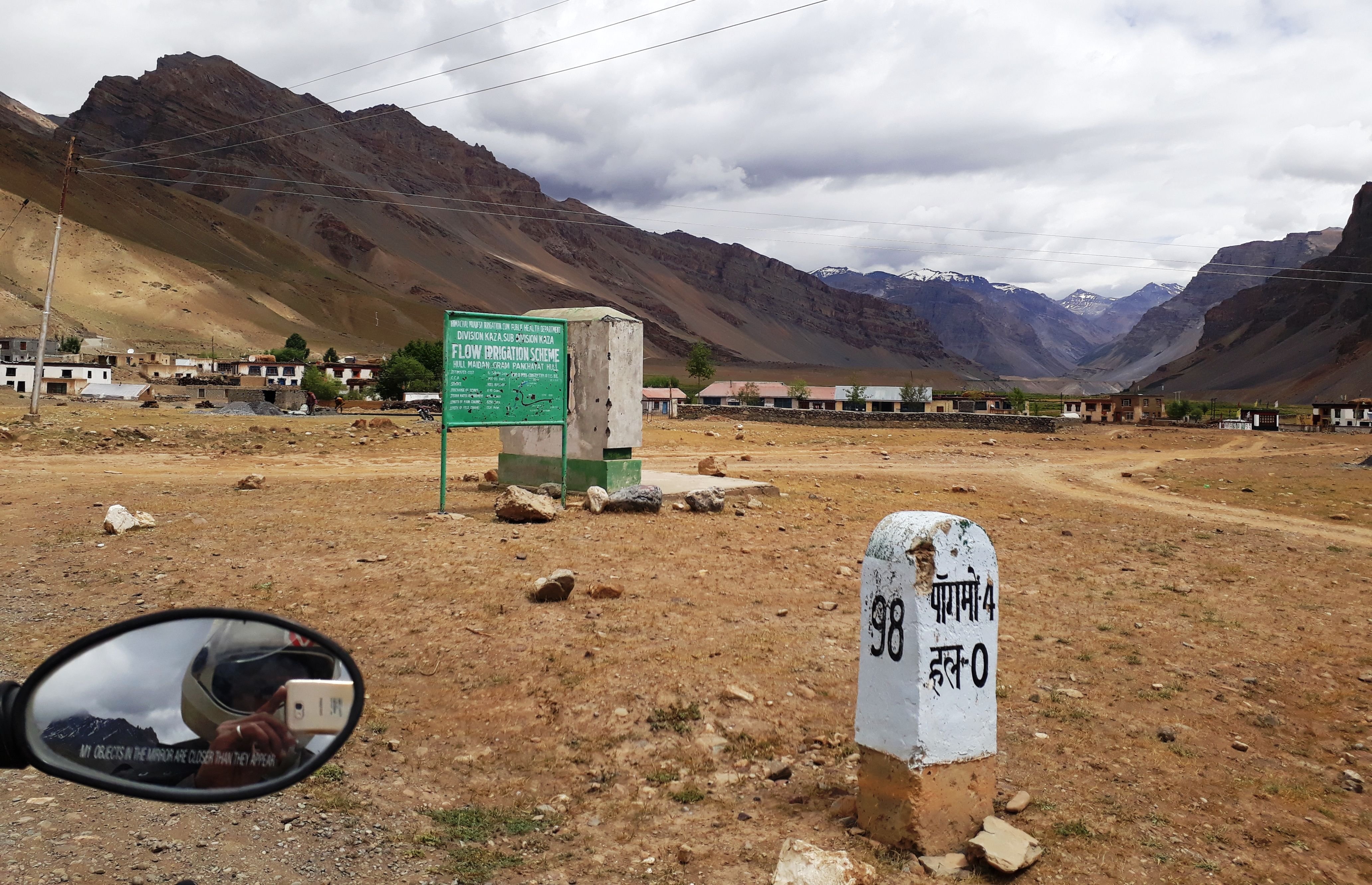 On the way Rahul and Naren met a lady who was very ill and wanted a lift up to her village on the way. So I had to carry Naren on my 100 cc bike for a stretch of road of about 8 kilometers. I feared about a tyre puncture, but thank God, it carried us well.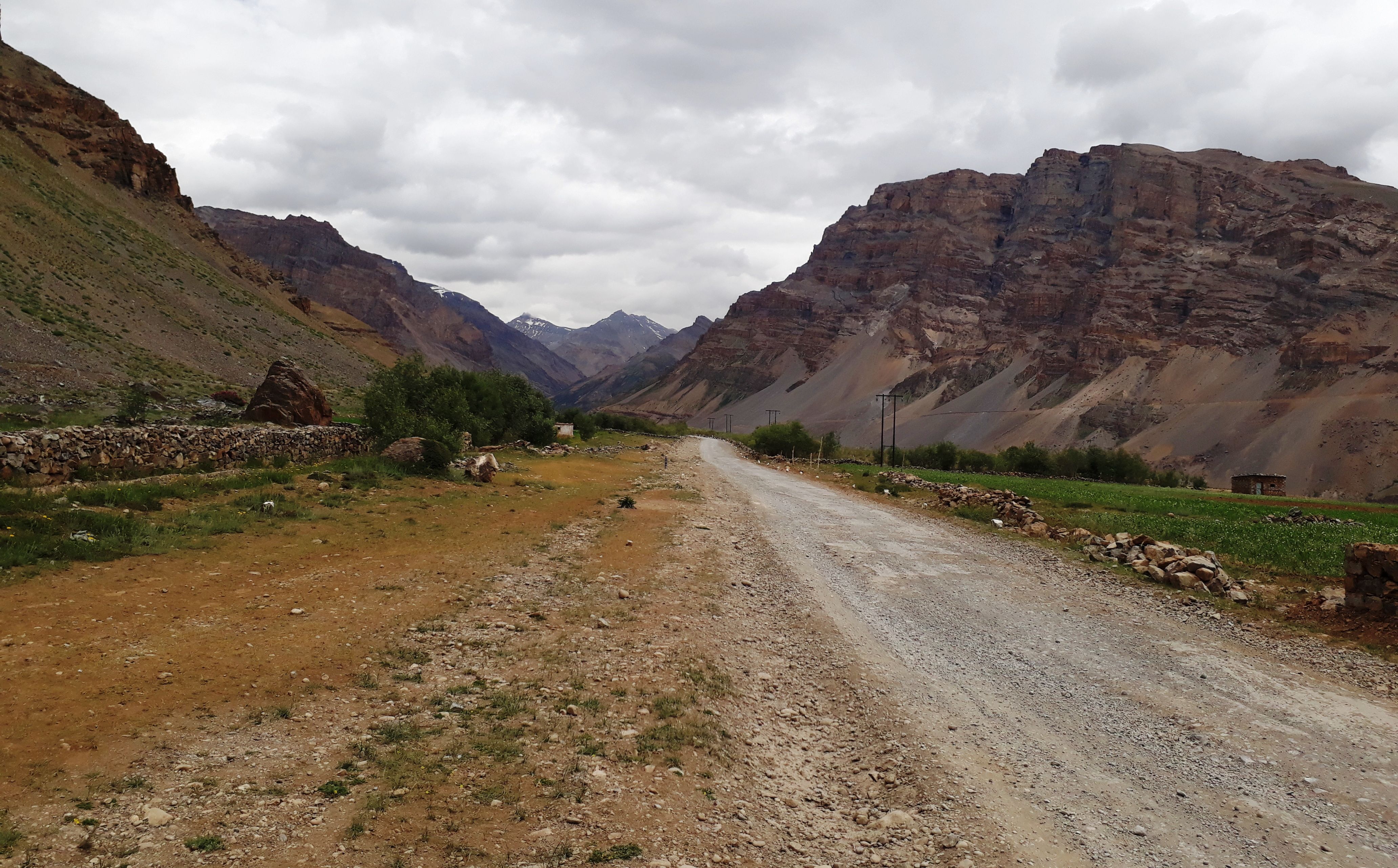 We rested few minutes at many small halts amidst nothing but the mountains and river.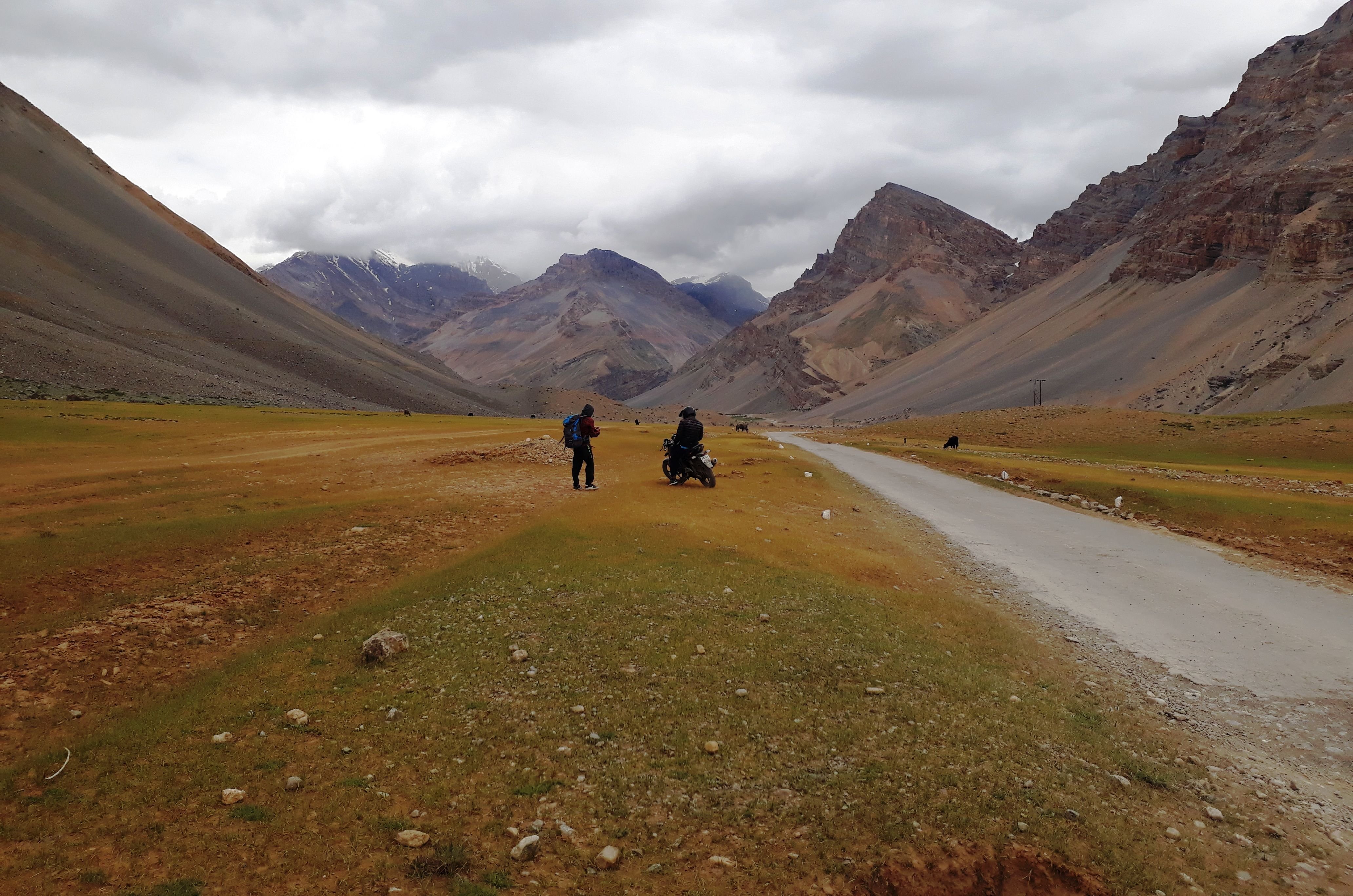 We rode our bikes until afternoon when we reached Lossar and had a plenty full of lunch. There are only 3-4 small Dhabas(restaurants) which serve mostly Indian and few chinese dishes. There is a check post at Lossar, and if demanded you have to prove your identity. While taking our meals, another group of riders stopped at the same dhaba. They were three young men who rode on their Thunderbird bikes from Delhi.
They were headed to the same place where we were. After crossing the Kunzum pass we would reach Chander-Taal base camp on the same day. Let's keep that part of the story for upcoming posts.
Thank you!