Hi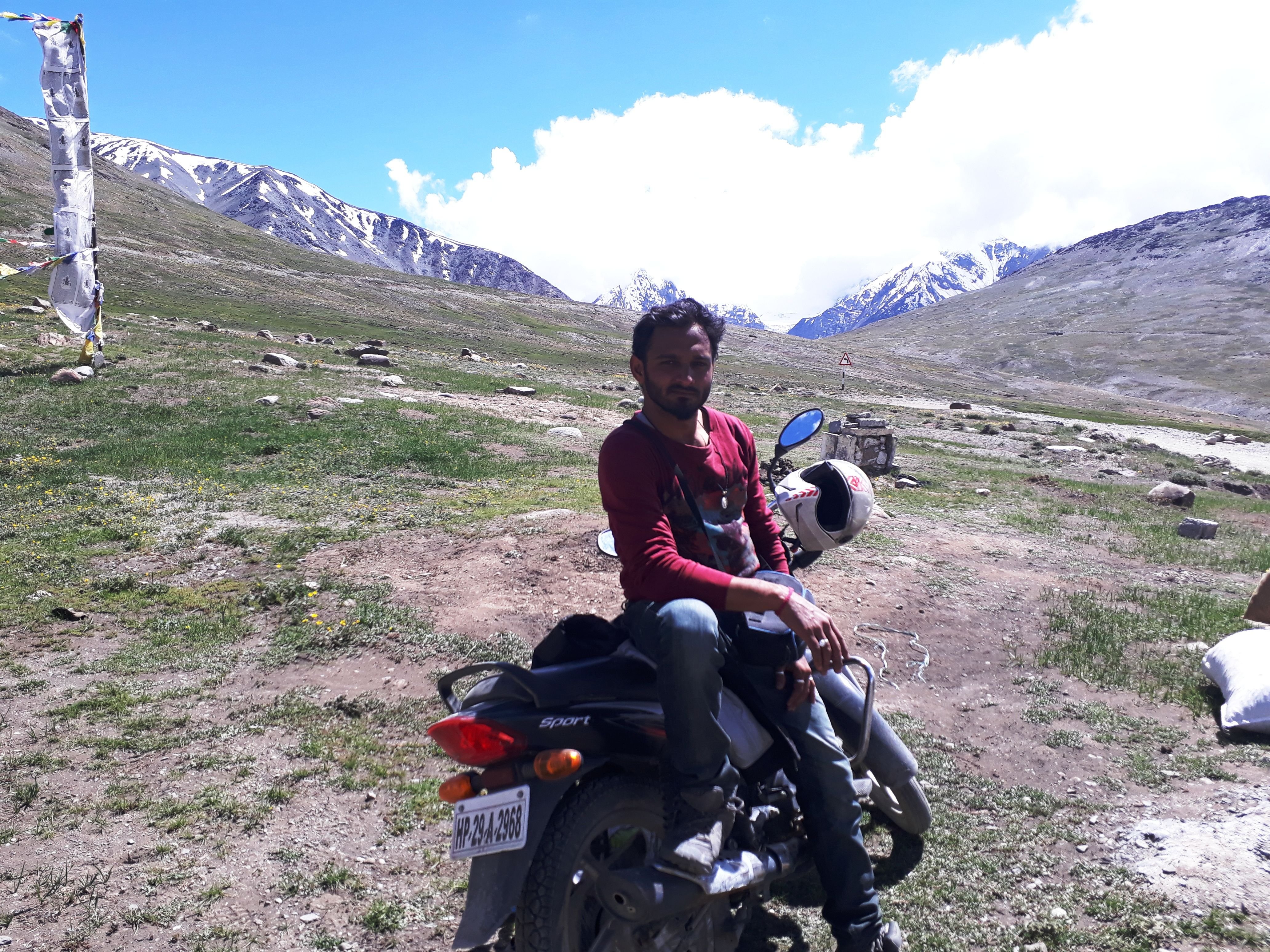 After filling our bike tanks at Kaza we started to Lossar at around 10:30 AM on 13th July, of 2017. This was our 4th day this Kinnaur Spiti national highway.
Kaza to Lossar
In earlier post, I mentioned Lossar. Lossar is the major station that comes in between Kaza to kunzum Top. Its distance is about 55 km from Kaza, and only 18 km from Lossar.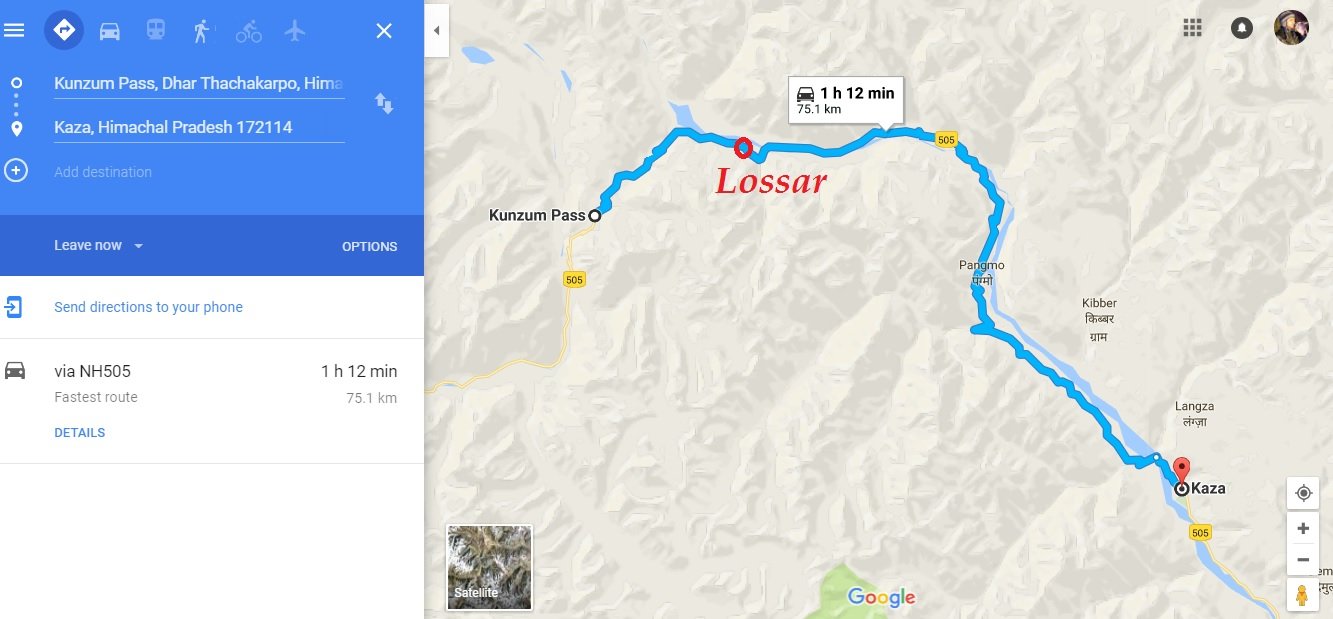 This 55 km of distance has pakka and katcha road stretches almost in equal proportion, but the road is simple and also runs low and parallel with the Spiti river. In between you cross few wooden or steel bridges across the streams of fresh, yet violent water coming down from the barren slopes of the mountains.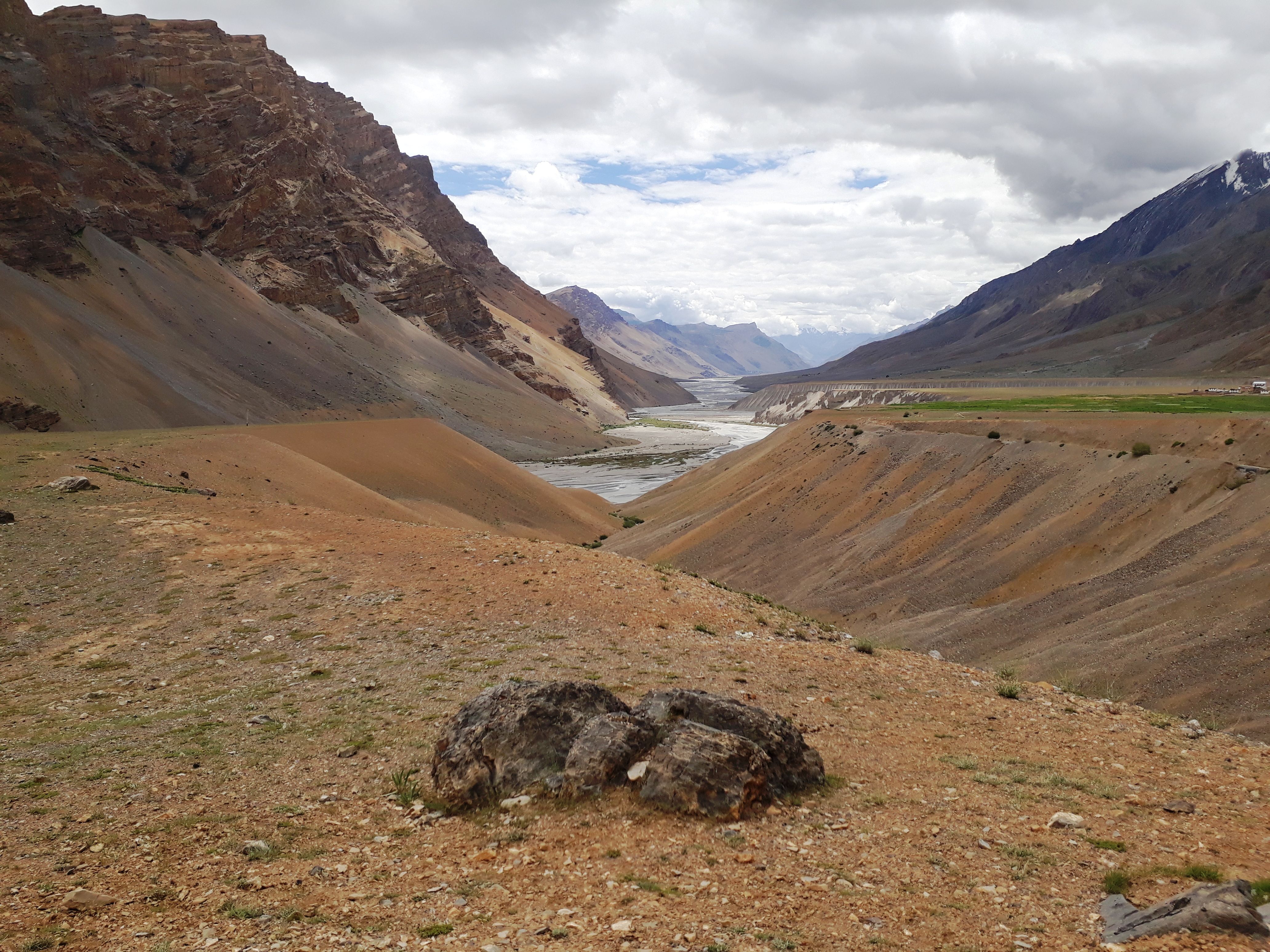 (Spiti river valley)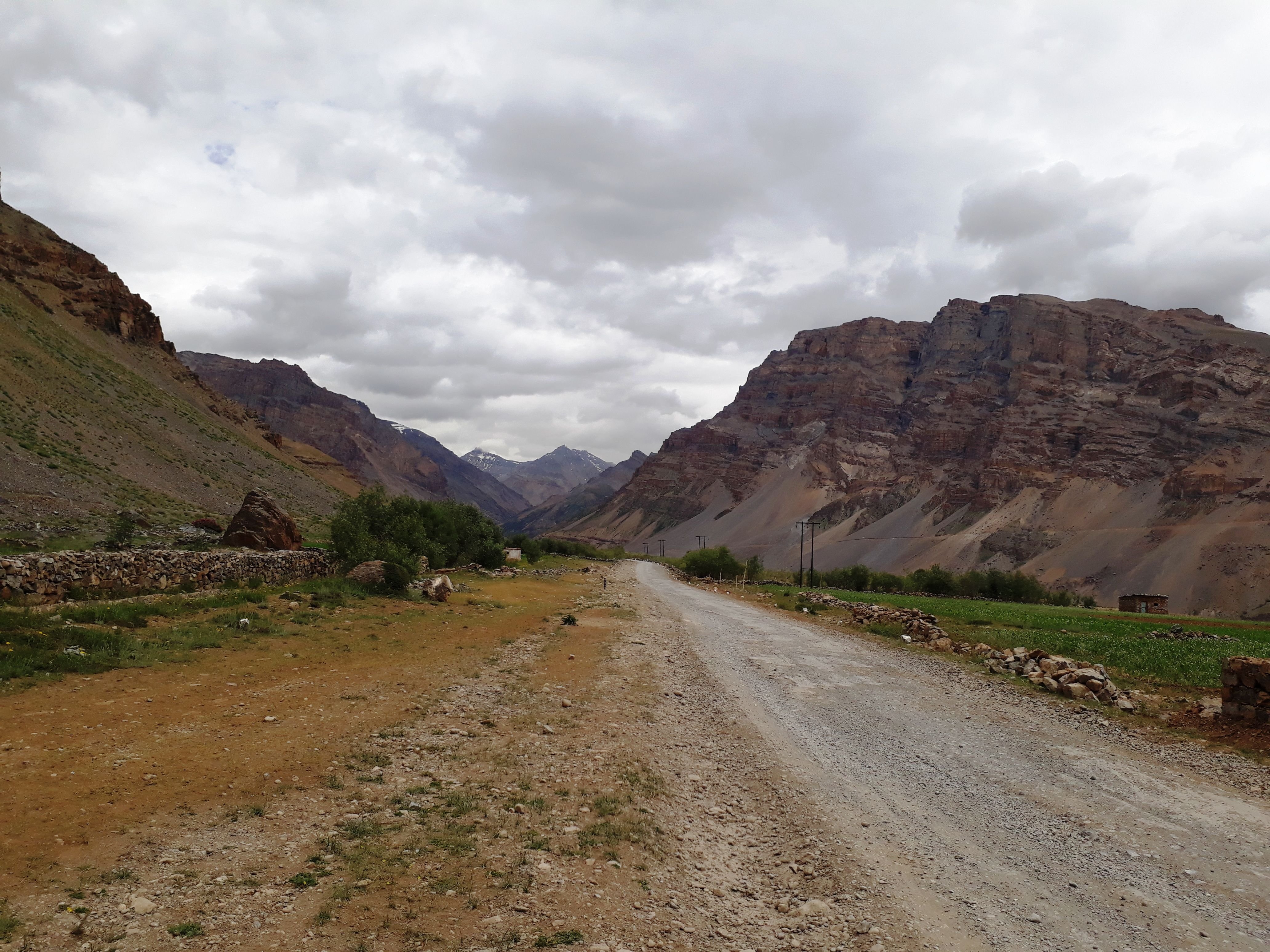 (Road from kaza to Lossar)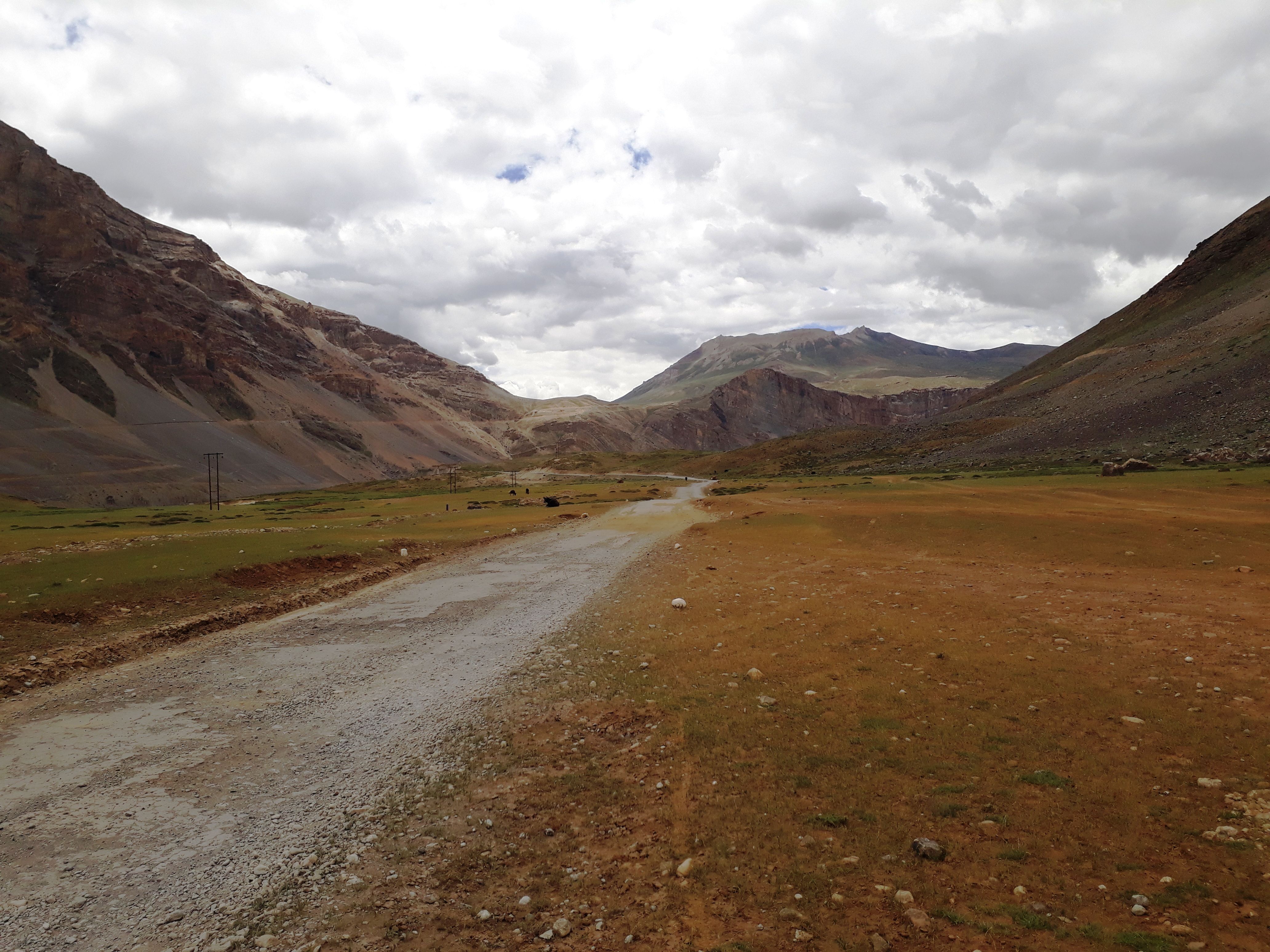 (Some stretches has this greenish layer)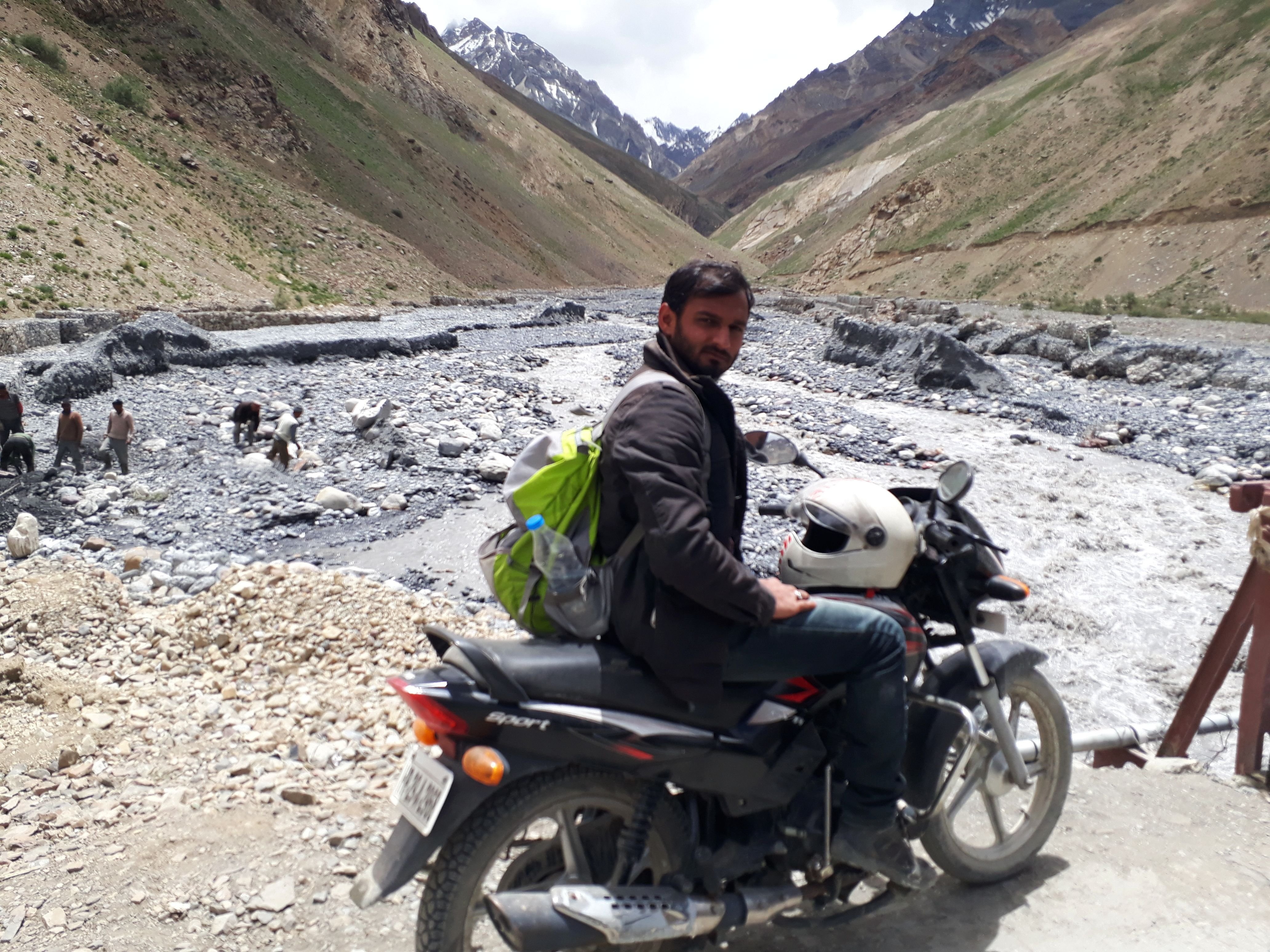 (Stream)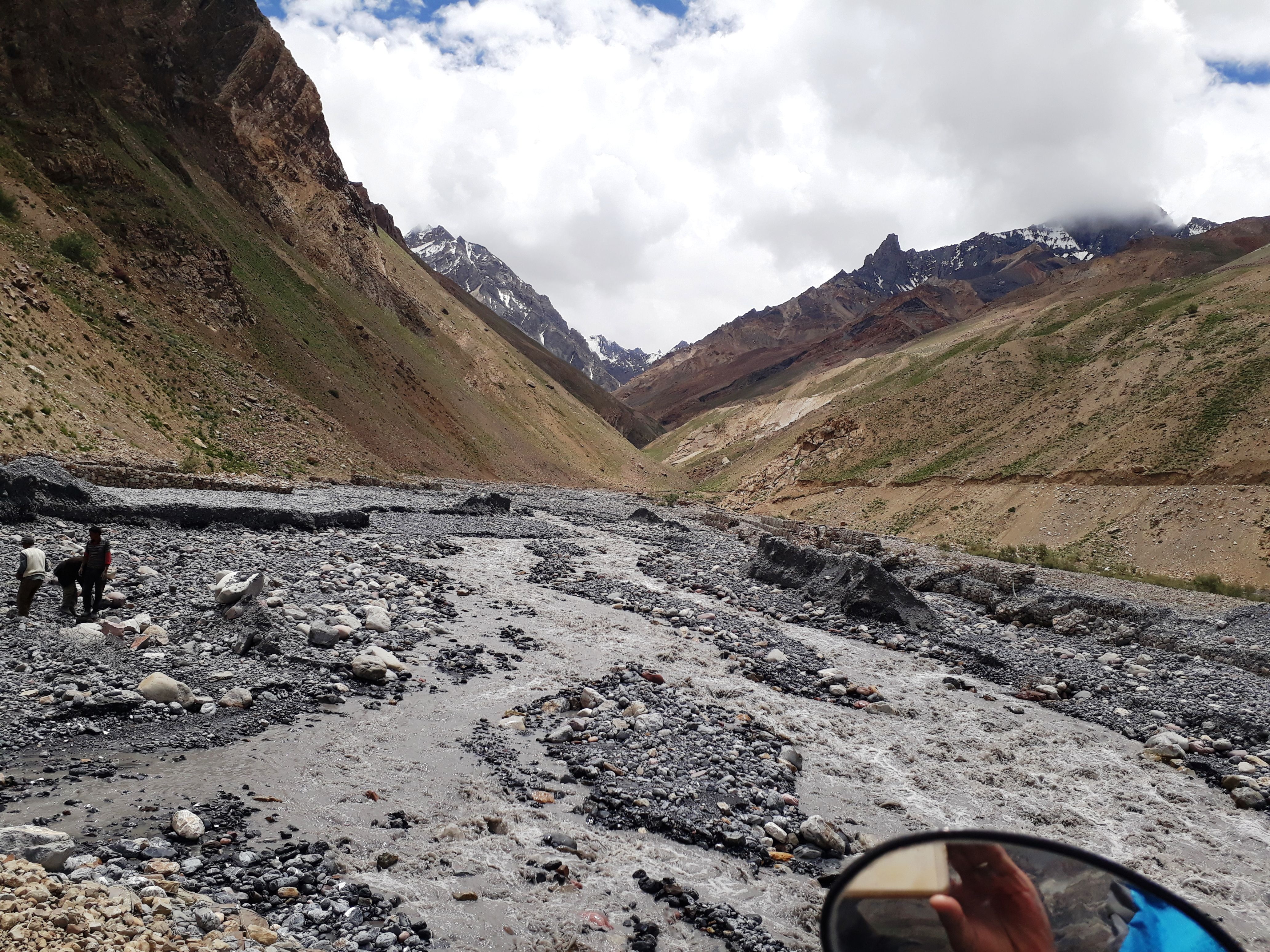 (closer view)
(Lossar village, as seen from the wooden bridge)
We reached Lossar at about 1:00 PM. There were 2-3 Dhabas(restaurants) which served the Indian and some chinese dishes as well. Me and Naren ate rice, kidney beans and curry, while Rahul ate about 3 parathas, a copious amount. In those 20 minutes of stop, we got the opportunity of talking to co-travellers on the route. First, 3 bikers stopped at the Dhaba and then two cabs, one with young boys and girls and other with the aged people.
Lossar to Kunzum Top
Just at the end of the village a small checkpost makes your entry in register. We started at around 2:00 PM from Lossar. This stretch of 18 km after Lossar to Kunzum Pass is dusty and one has to cross and rise above the elevation of Spiti river, and therefore many curves on the slope of the mountain are to be tackled safely. A major stream is crossed via yet another wooden bridge similar to the one we saw a kilometer back from Lossar. Both of these streams merge with the Spiti river.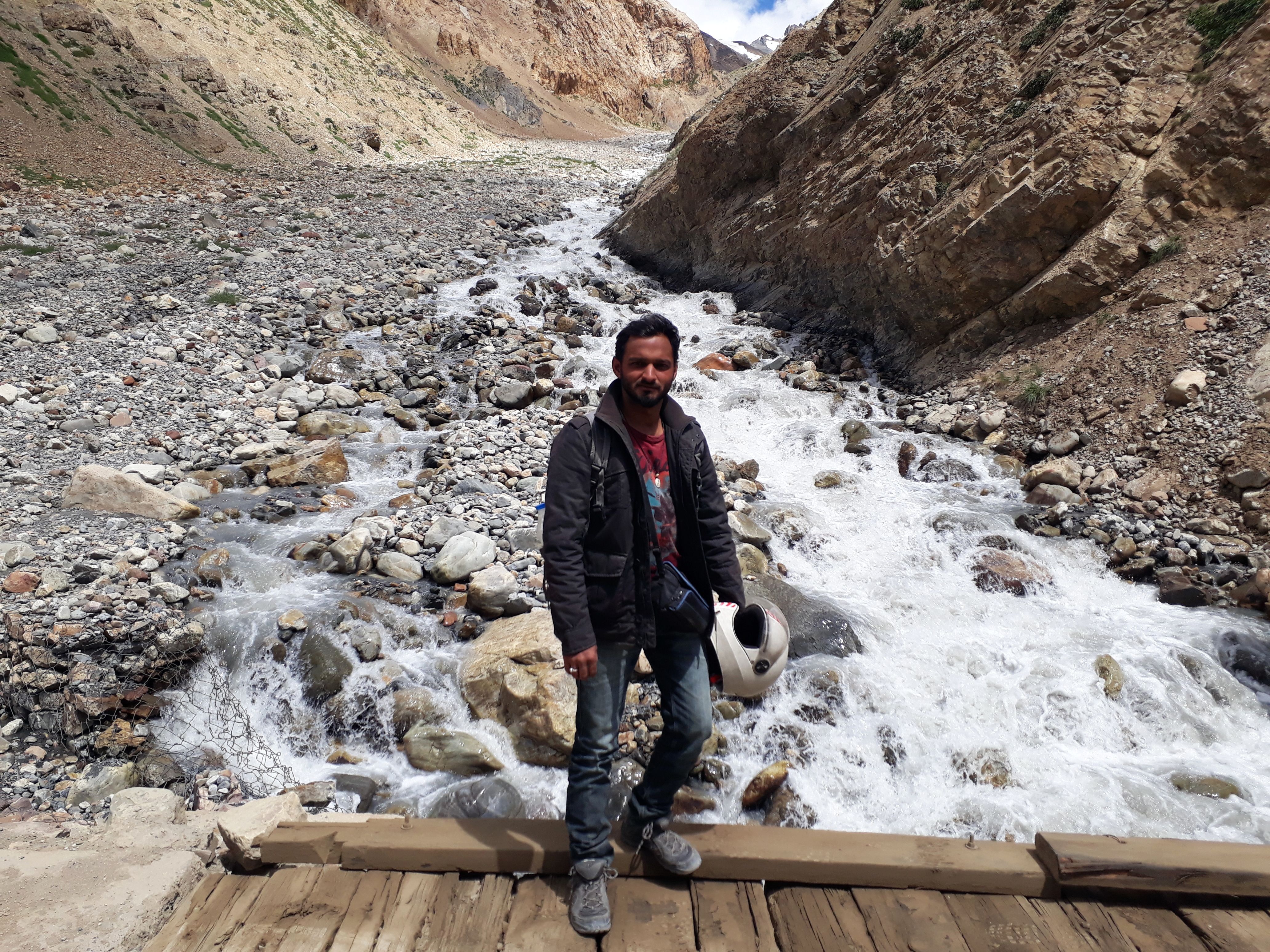 Upstream - just after crossing Lossar)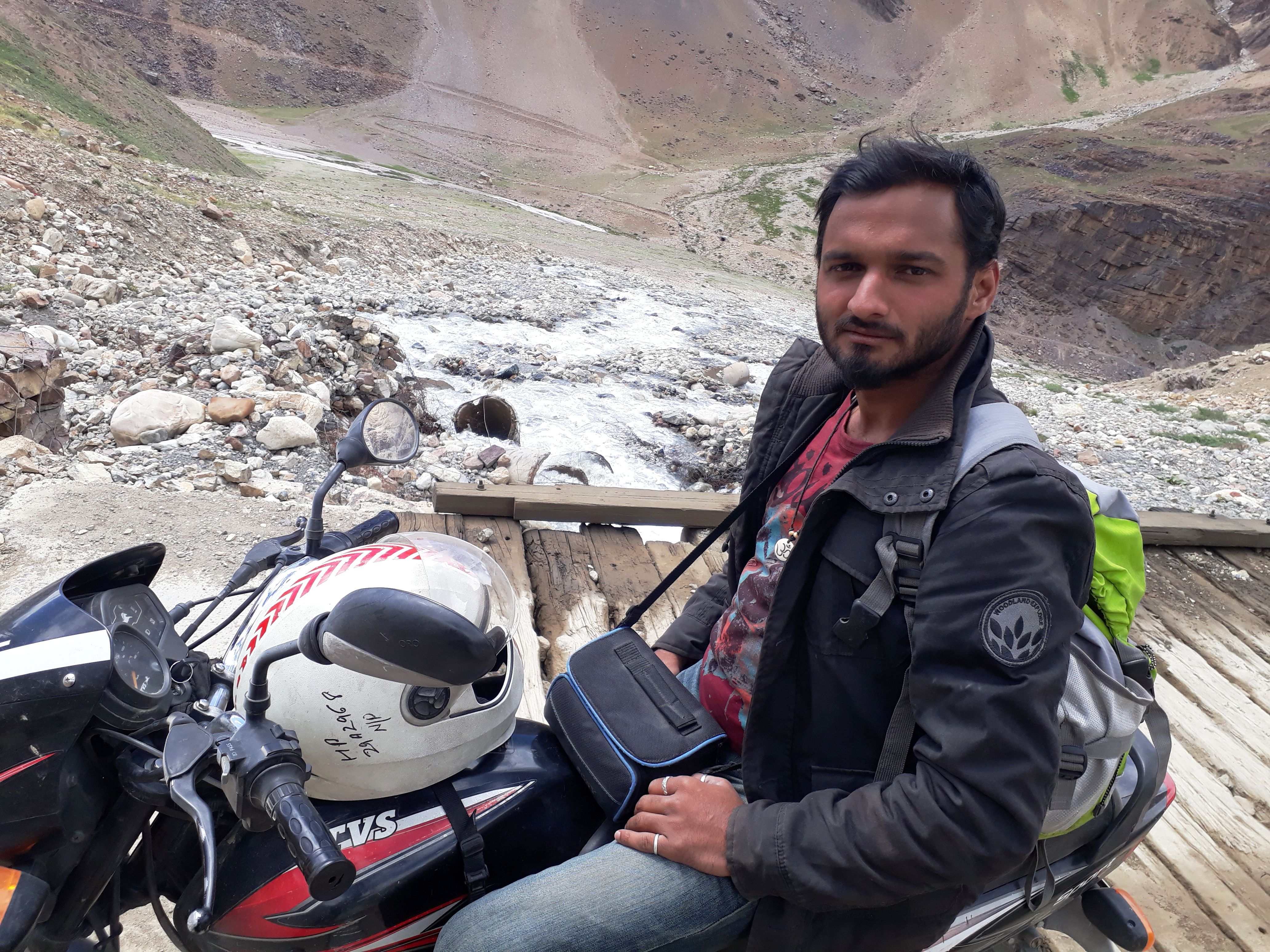 downstream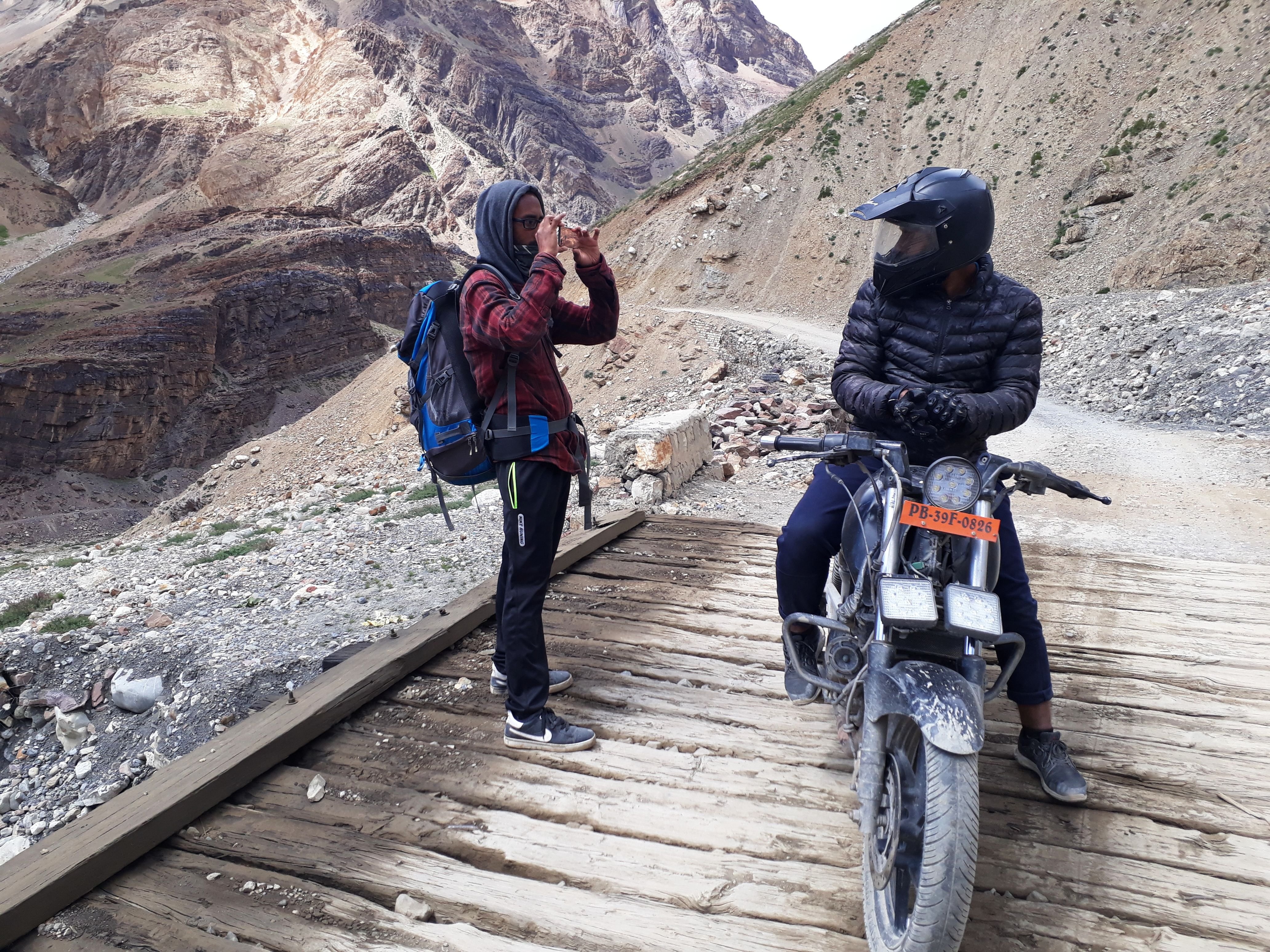 (Photo session on the bridge)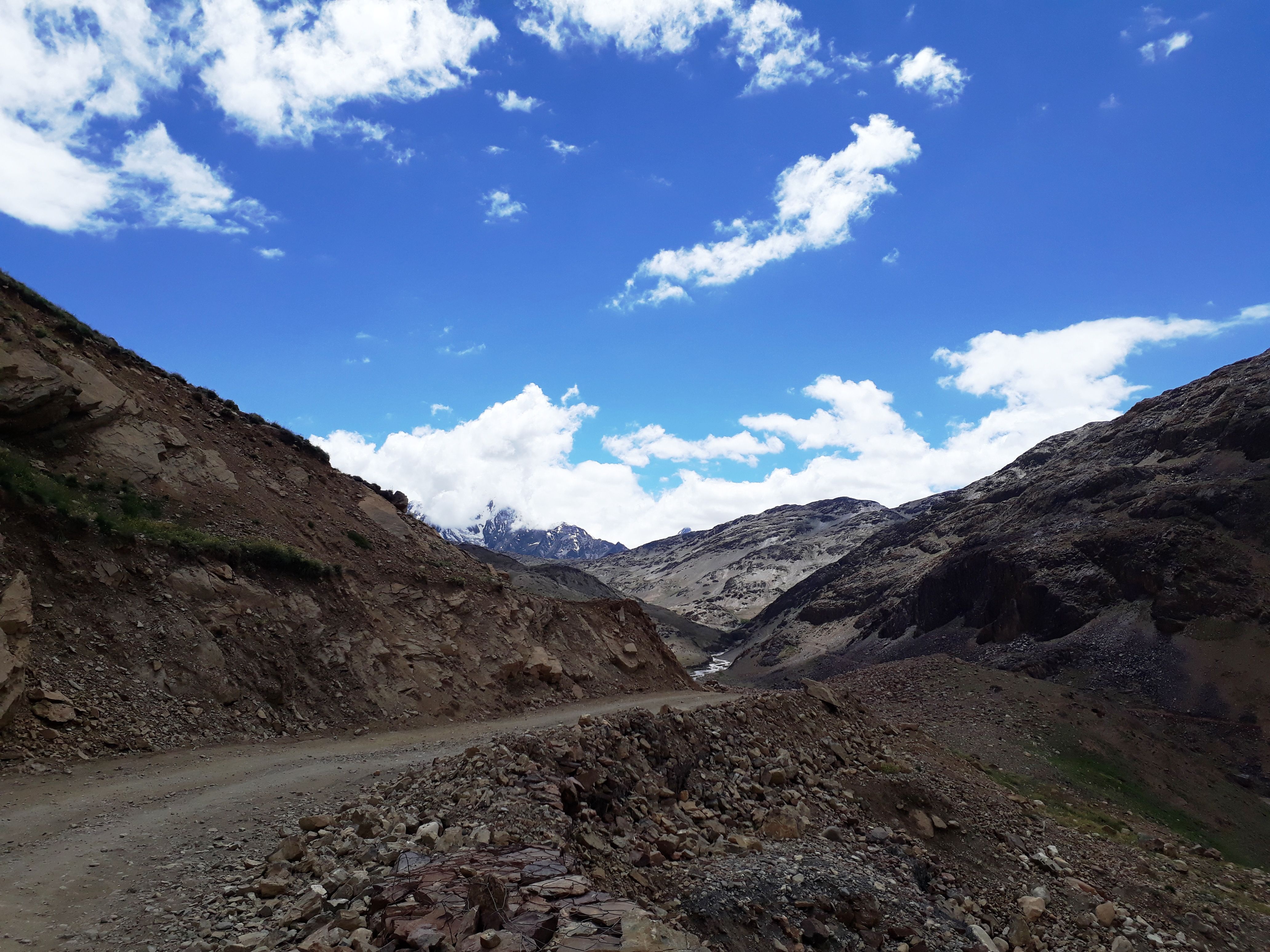 (Rise)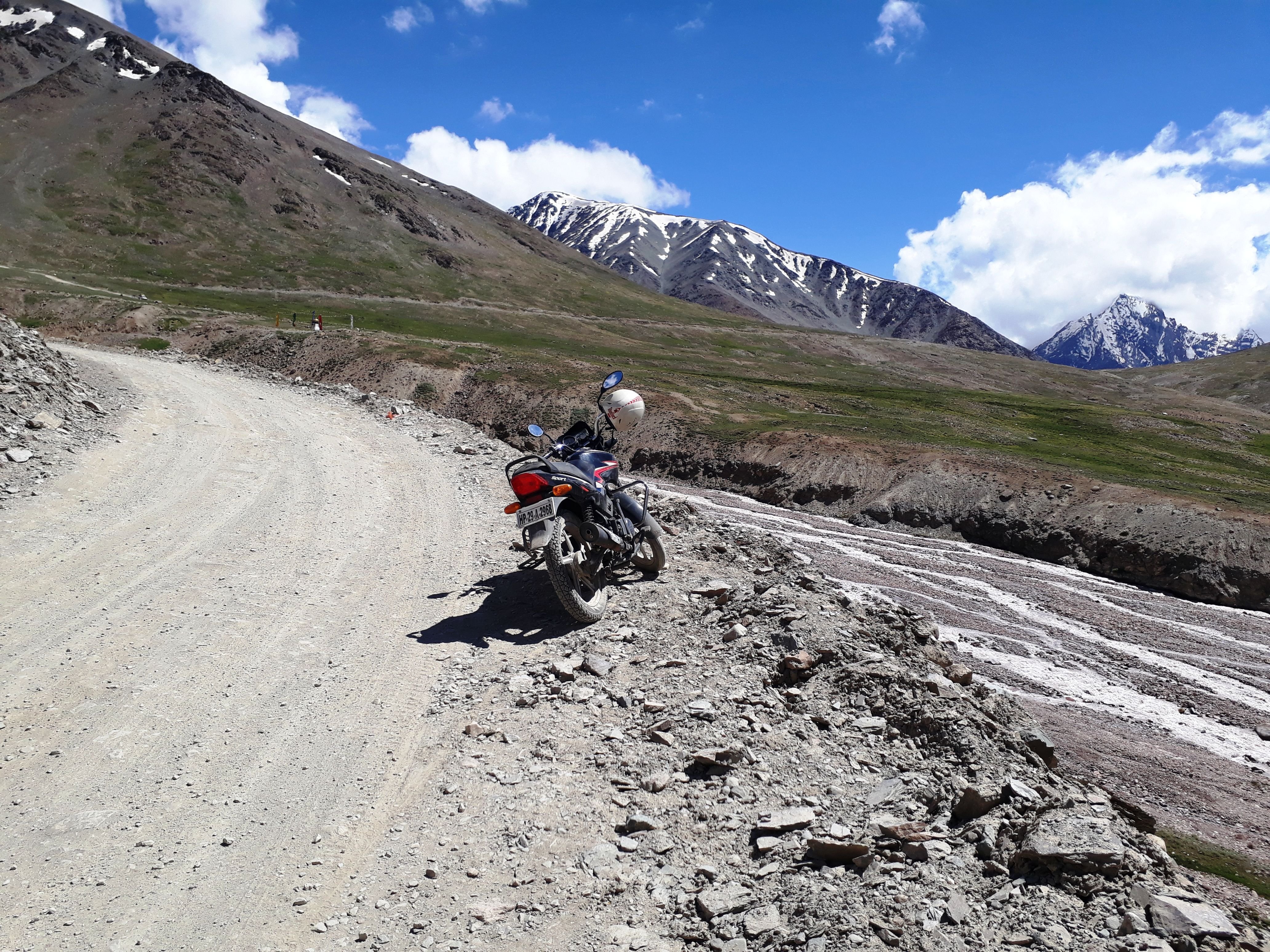 my 100 cc bike, was enough for a 60 kg person(I)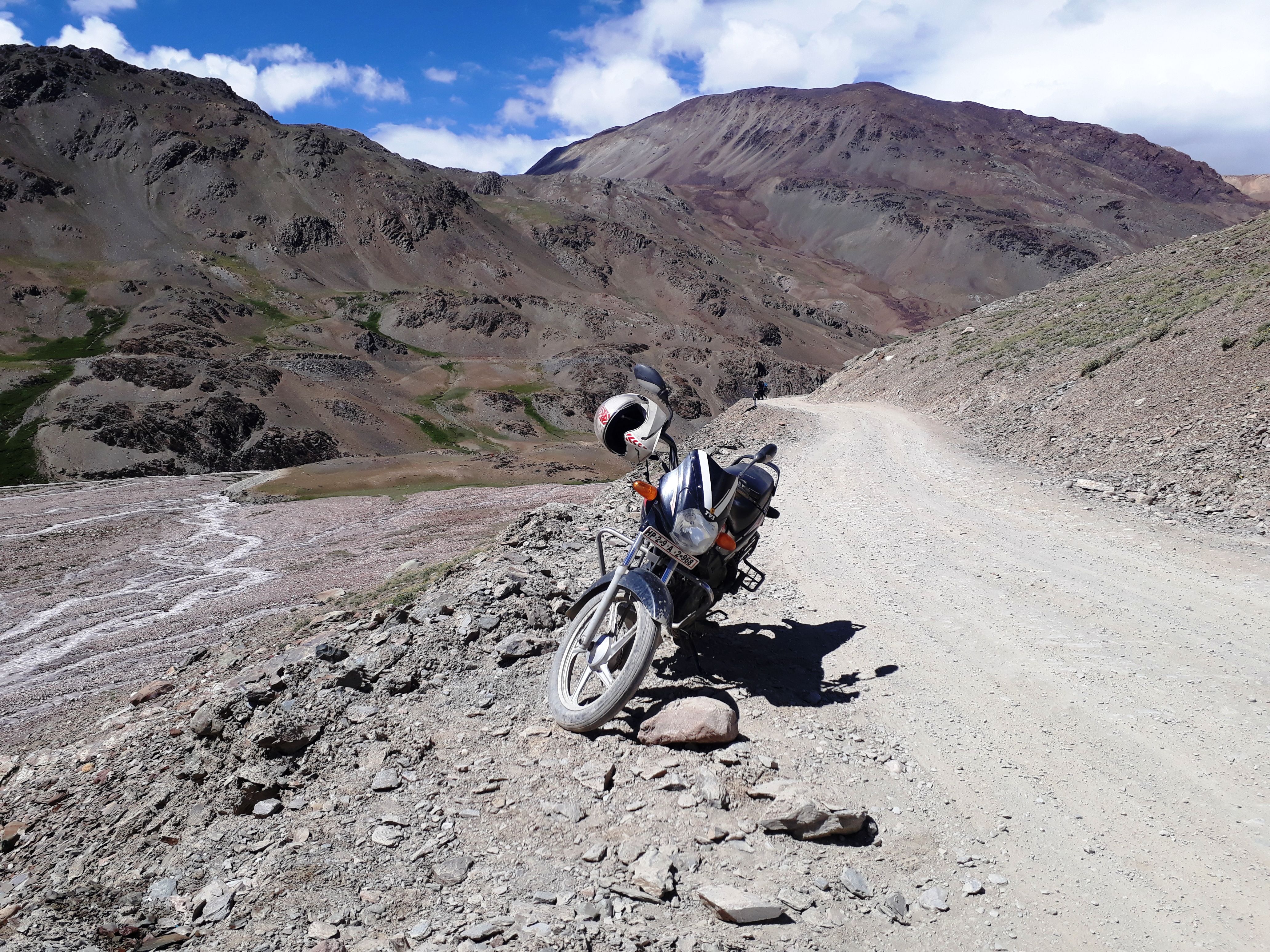 (have another look)
There is no village or a single home on this stretch, and also wouldn't be possible for them to be, the reason is the snow and elevation. At the mid heights before reaching Kunzum, this beautiful strut(maybe worshipped by Buddhists, I wouldn't know.) picked my attention. The weather was so refreshing, look at the sky color. The small patches of glaciers on the mountain tops appears like the ice on the cake... lol. I know bad analogy.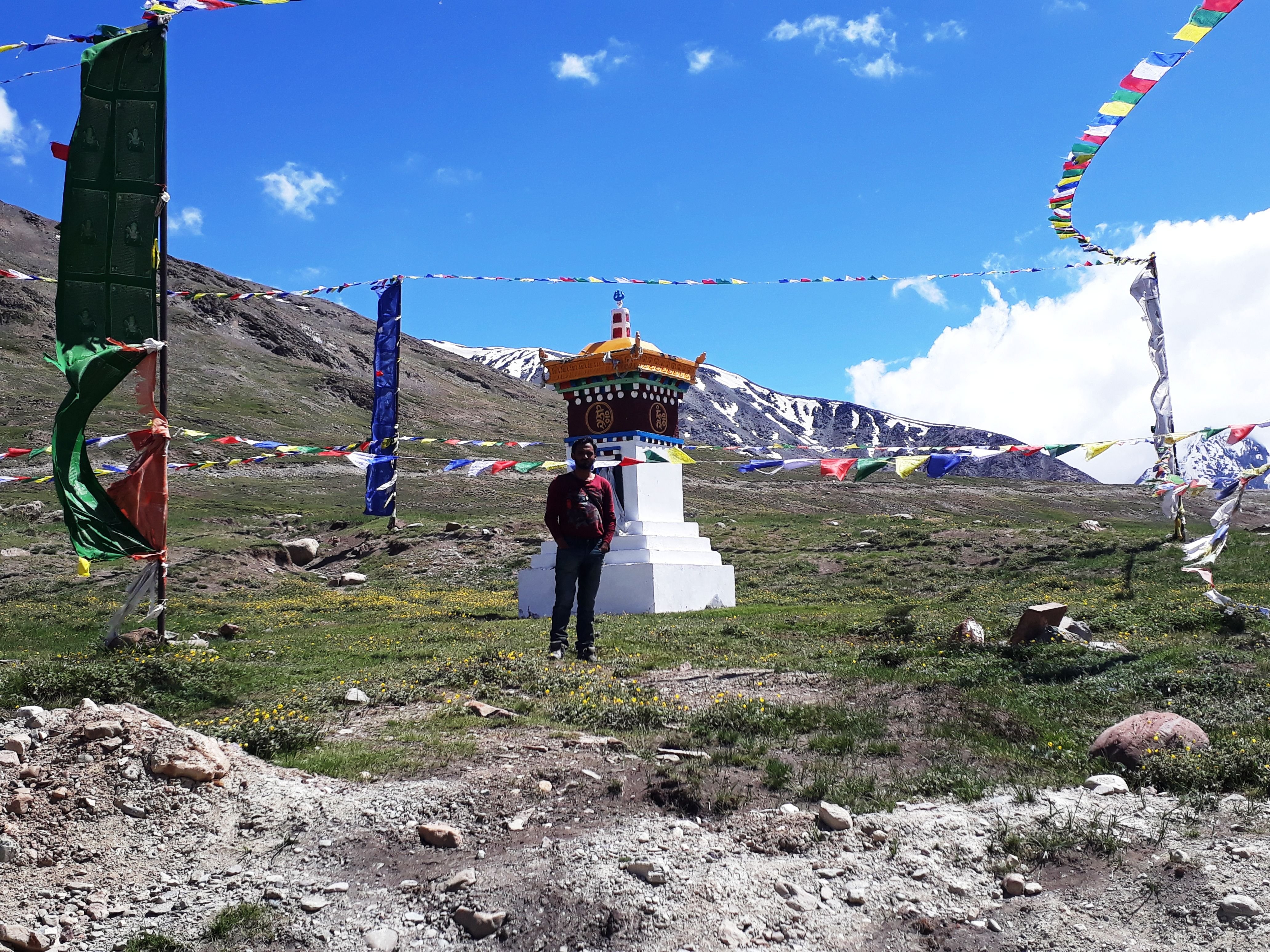 It provided a lovely view of the mountain peaks in the back.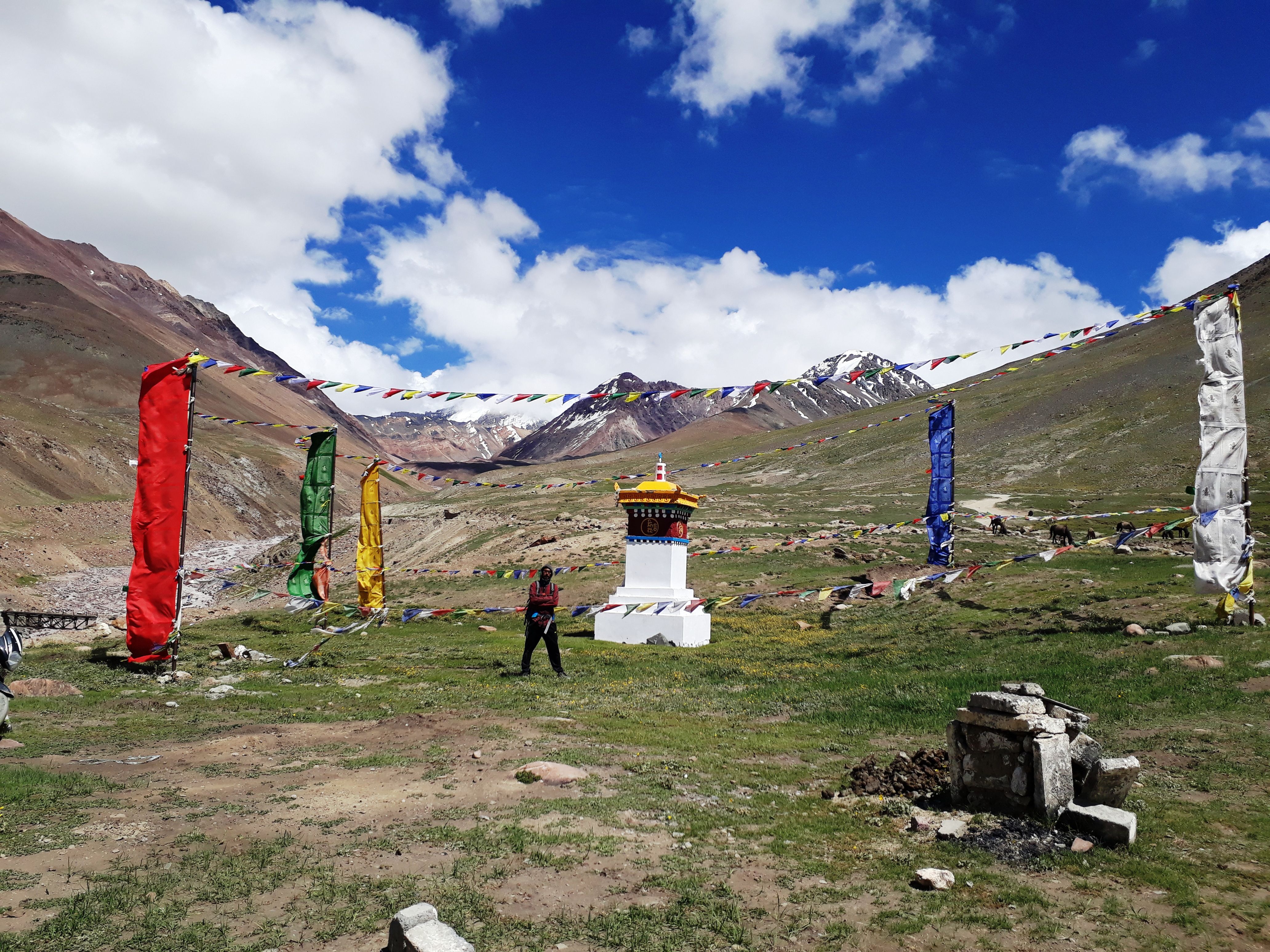 Road further deteriorates after this point. And rises like a mountain trek.
At Kunzum
Kunzum Pass/Top was only about 4-5 kilometers(as per my faint memory calculations) from this point. Pass has an elevation of around 4590 metres above mean sea level, and therefore this route gets closed in winters. It opens only for the summer months, therefore this spiti valley gets cut off from Manali or Lahaul. In winter buses run from Kaza to Reckong Peo which remains connected with Shimla.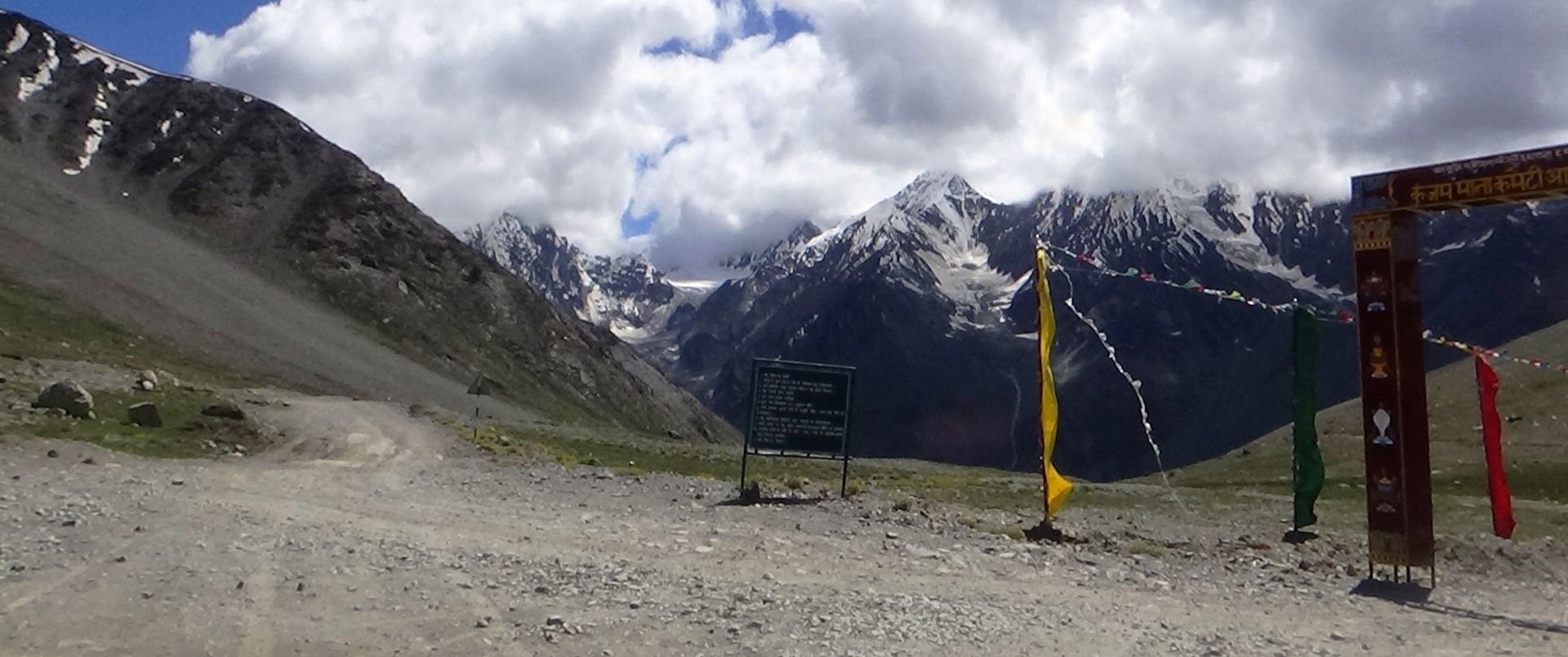 (look at the beautiful peaks in back)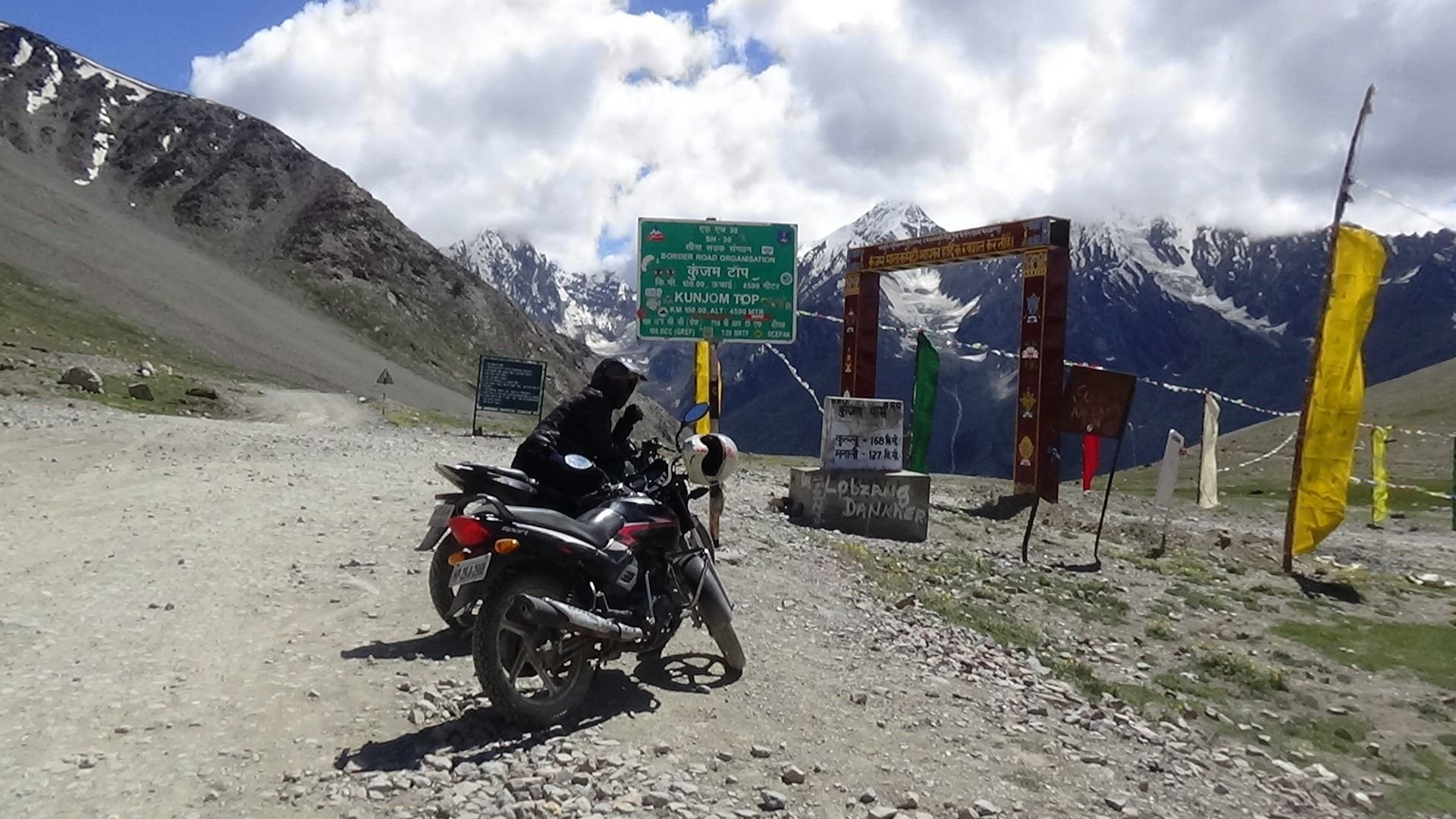 (Road at Kunzum Pass)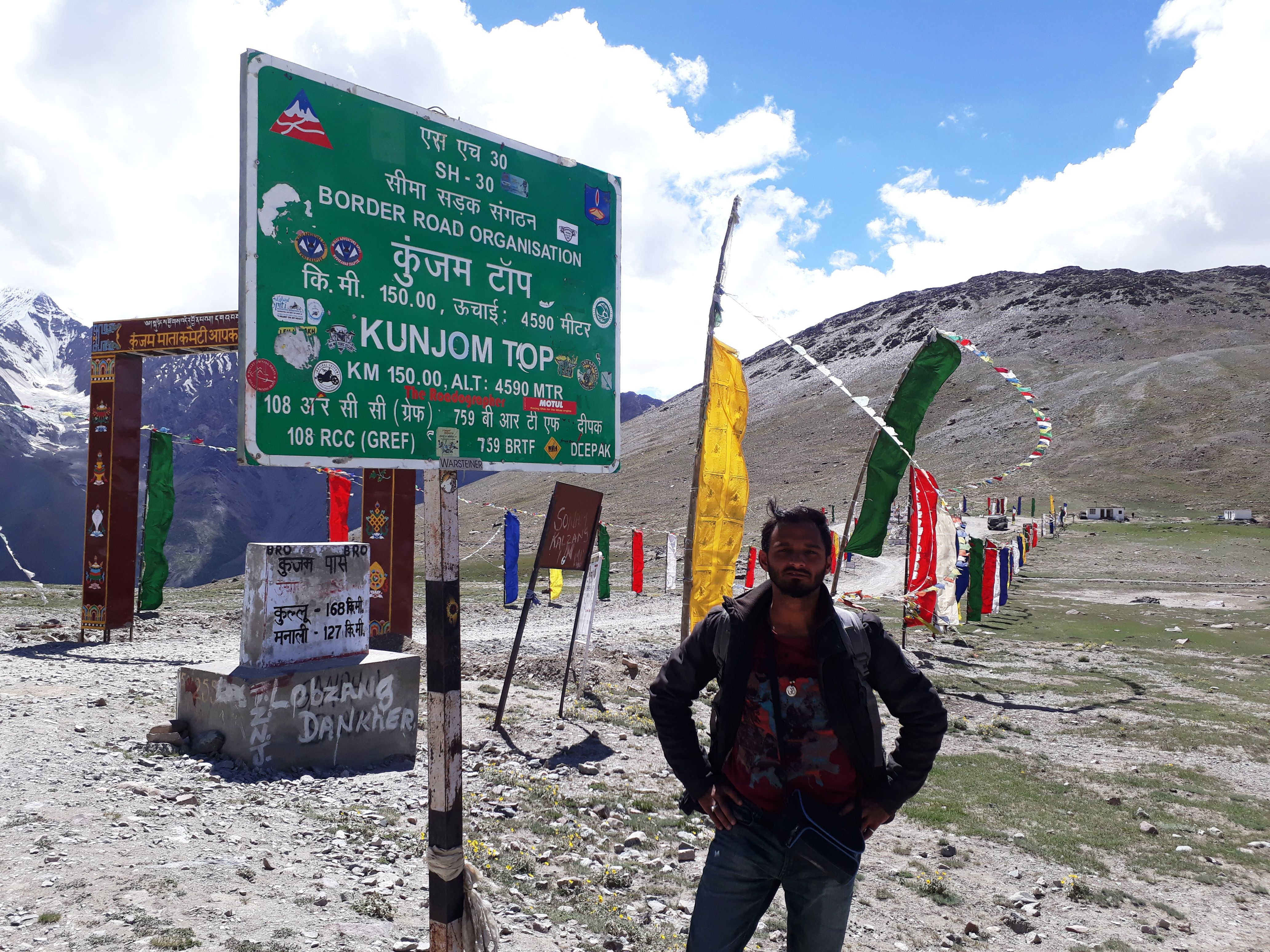 (The informatory board at Kunzum Pass)
A big banner gate welcomes you, there is no roof and therefore the temple is open air. When we reached, a HRTC bus was stopped next to the temple dedicated to goddess Kunzum. Bus services are available from Kullu and Manali,and they run in the morning time only, because they tend to reach Kaza before the noon, because water in the streams gets swelled after noon. This happens due to the high rate of melting of ice due to more heat in the afternoon.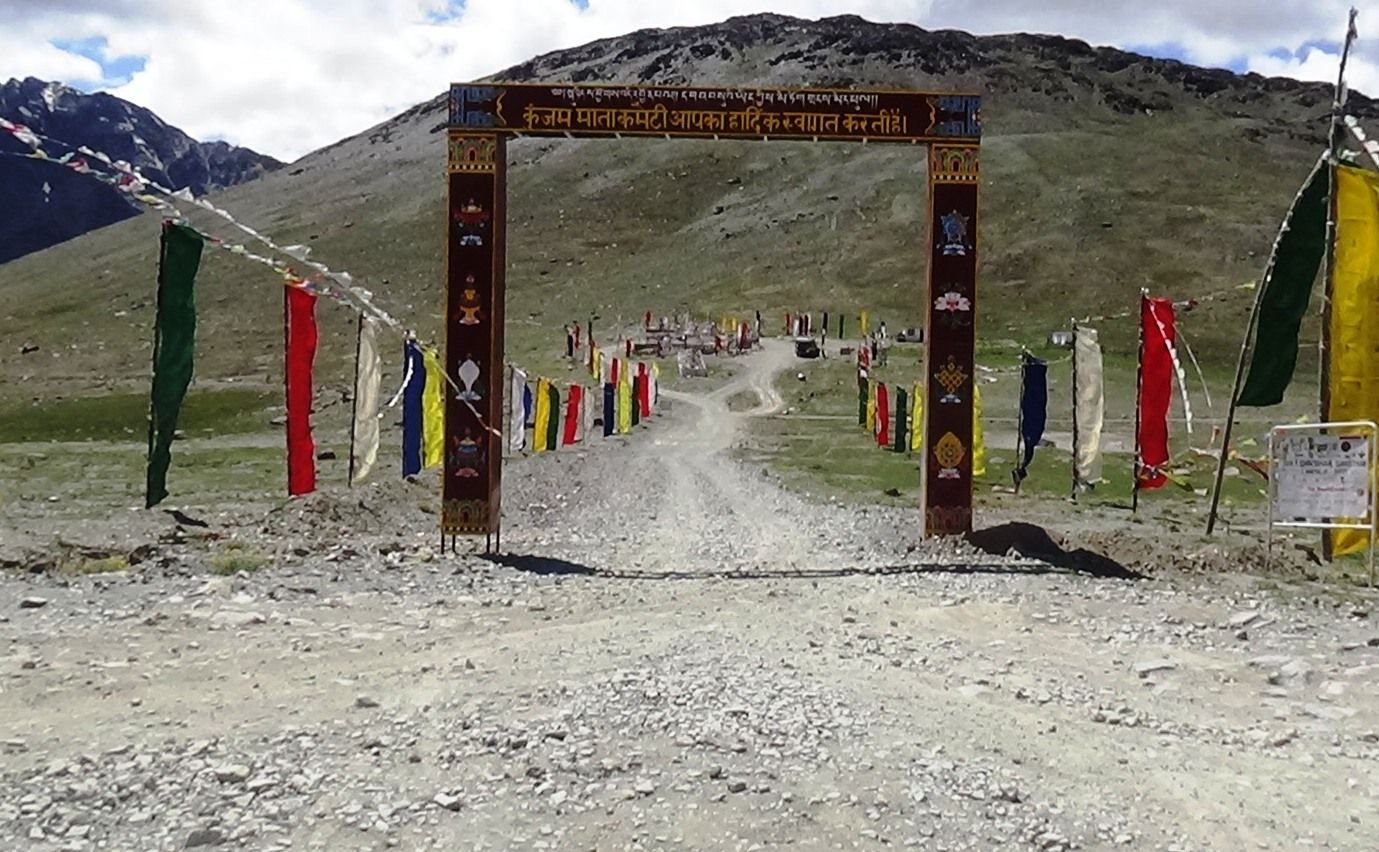 (See that circle of road around the open air temple of goddess Kunzum, a bus to the right)
People pray here for a safe journey on this dangerous route. We also went in there, made a circle around the temple. Till then first that cab with youth and then a biker group which was behind us reached the pass. They started doing same. We were done, so we started further towards our next destination.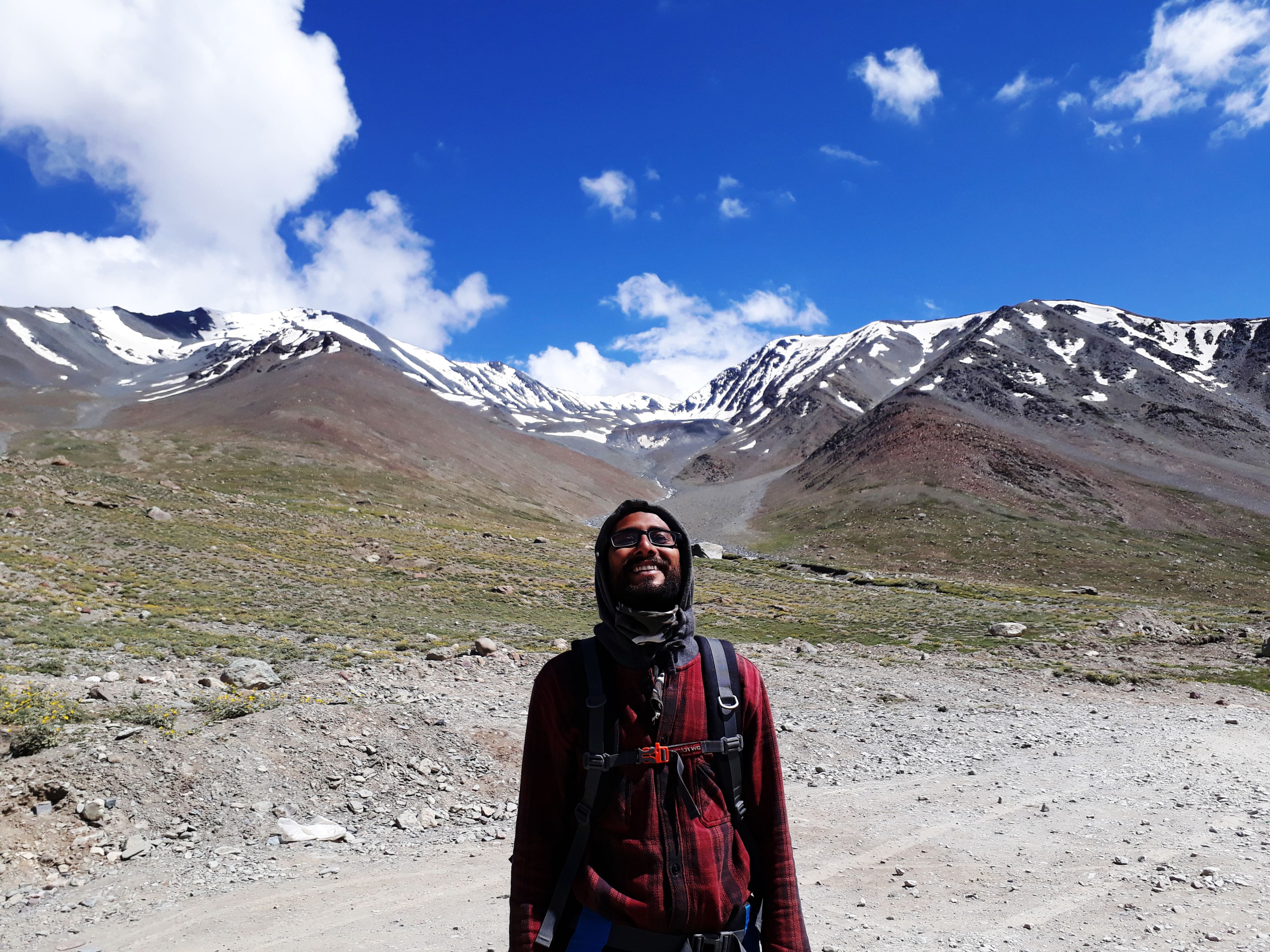 (Naren in front)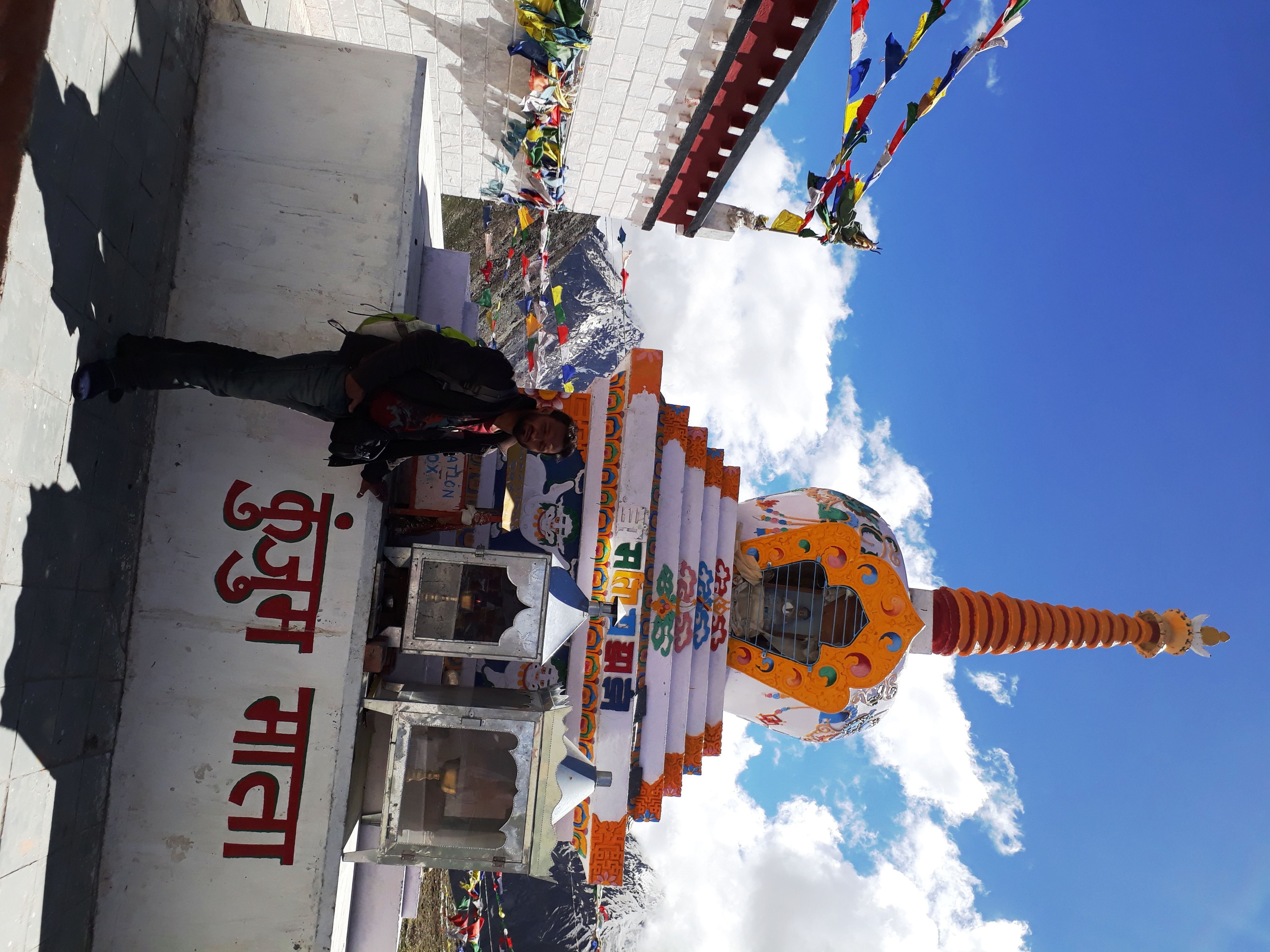 (The open air temple, somehow the image won't turn left in steemit)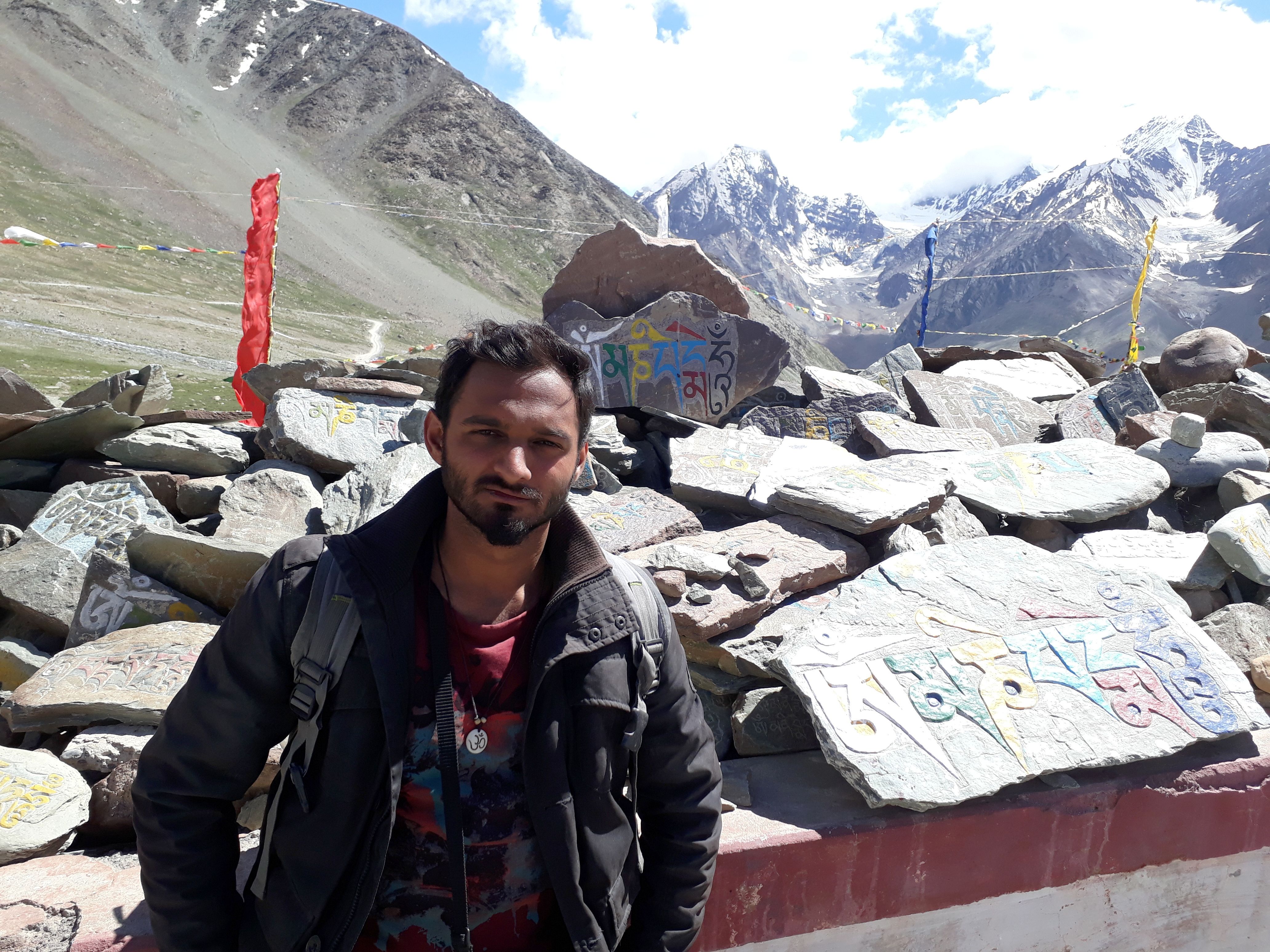 (Mantras stone relief outside the temple)
(closer view of the Kunzum temple)
Riding towards Chander Taal Lake
The road descends down very steeply in a zigzag manner. We managed with gravity and saved some petrol in our tanks. Our next destination was Chander-Taal lake, so before reaching Batal, which is at about 11 kilometers from Kunzum top, we have to take a right turn on this single lane road that is solely constructed as a connection to Chander-Taal Lake.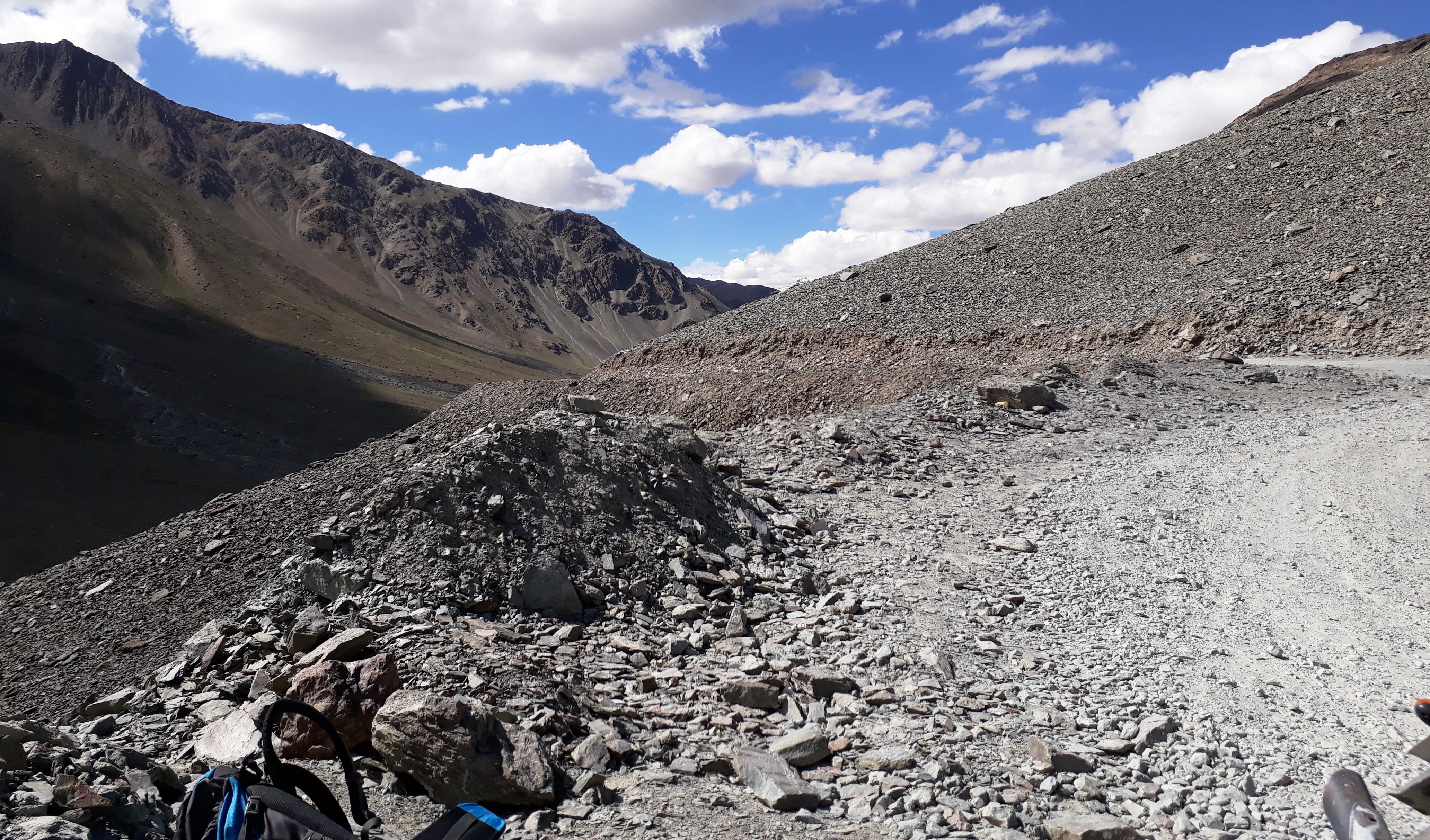 (the link road to Chander-Taal Lake)
We would have descended about 7-8 kilometers until this board is reached, which reads the information about the diversion towards Chander-Taal lake. Our plan was to camp at the Chander-Taal lake base camp and visit the lake. That would completer the 4 days and 4 nights of this long trip. Let's keep that part of the story for the upcoming post of this series.
Thanks for the kind visit.
Browse the other parts of the story in my blog.